March 16, 2010
Damian Allsop Mini Collection Chocolates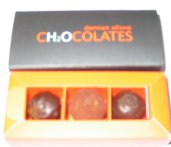 Wow this is some incredible chocolate.  Made without milk or dairy at all, I cannot recommend it highly enough.  Sometimes I was a bit surprised at the flavour but really, this is some fantastic chocolate.  The high quality of the chocolate is evident in each bite.
The fresh basil chocolate was a bit of a shock but I got used to it. It was a small chocolate and the filling was quite green but still pleasant.
The coffee and passion fruit chocolate was an extreme delight.  The perfect marriage between tart and strong and chocolate.  A lovely delight and the perfect flavour balance.
The salted muscavado truffle was strongly flavoured and I wasn't expecting it but it was a delight as well.  The flavour was strong but balanced.
The absence of dairy made the chocolate really stand out and a delight to try.  I highly recommend these chocolates