September 20, 2010
Paul A Young Pecan Caramel Chocolate Brownie
I think I died and went to heaven when I had this Paul A Young chocolate brownie.  There is a flavour of nuttiness to the chocolate brownie which is delicate but yummy and is not at all the same flavour as a hazelnuts or almonds.  Pecans to me are a lovely sweet nut and with caramel and the chocolate it makes this a delightful brownie.
What makes this the ultimate brownie is the soft melting texture of the brownie. Under the crunchy pecan and caramel topping is the very moist chocolate brownie which just melts at a touch.  I had to cut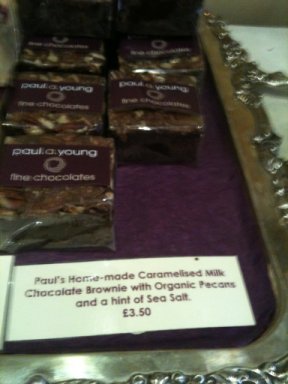 mine into squares rather than biting it.
I did have to pace myself when eating this brownie.  It was huge and dense and meltingly delicious.  I think I've become addicted to them and keep imagining ideal ways to optimise the pecan/caramel/brownie combinations.
I really highly recommend these lovely chocolate brownies!