November 8, 2011
Naked, Milk & Dark Hokey Pokey Reviews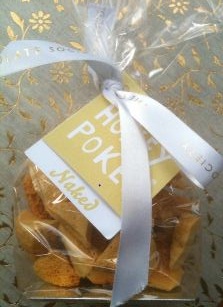 Now, I'm no prude and anyone who knows me will back me up in that and so I love getting naked things.  Naked crisps, naked macarons, naked chocolates (just the ganache) – it's all good!  So imagine my delight when I got some NAKED Hokey Pokey from The Chocolate Society… and milk and dark chocolate covered.
I used to buy a *lot* of stuff from the Chocolate Society and that likely contributed to my current size.  I'd assume the whole not exercising thing and working instead also contributed to it – perhaps more so than the truffles and cookies and brownies I used to get but hey – they did contribute!
Having to choose I went naked then milk then dark chocolate covered hokey pokey.  I had to pick an order and this was it!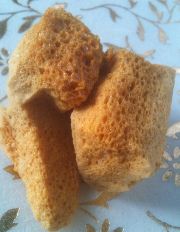 So this Hokey Pokey stuff came at a time when I was super busy and ended up not being opened until a decadent weekend when I simply had to indulge myself in a bag of sheer delight.  This decadent weekend saw me paw a bag and hide it away as I gobbled the first piece alone – I wanted to make sure I got some before offering it around!
Hokey Pokey is also known as cinder toffee and honeycomb as well as sponge toffee.  Depending on where you are, it seems to have a different name.  This particular confection is made by the Chocolate Society to be less sticky and more delicious (though I'm not sure how you do that).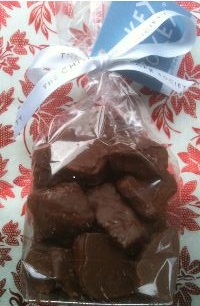 I'm always looking in my sponge toffee for something different or a distinct flavour. His has a strong distinct flavour I always relate to honeycomb.  Delightfully sticky and crunchy I'm worried what normal hokey pokey would be like!
The Milk covered Hokey Pokey is covered in 40% Valrhona chocolate. SUH-WEET!  The sponge toffee is the same delightful kind that I tried naked but this time I have it in a milk chocolate covering.  The milk chocolate is sweet and so combined this is a really sweet treat.  It will be perfect for anyone who appreciates sweet things and loves something different.  I recommend it as a gift for someone with a sweet tooth (like you!).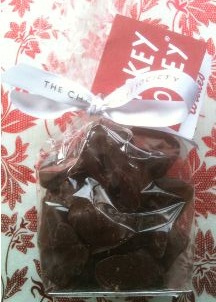 The dark chocolate hokey pokey with the 70% Valrhona chocolate was nice.,  I think the Valrhona chocolate was OK but the hokey pokey was delightful.  Probably of the three the milk chocolate was my favourite which surprised me as I thought I'd like the dark chocolate best but with the flavours and the chocolate the milk was my top pick.  SUH-WEEEET!