November 7, 2011
Baruzzo Seasonal Selection Review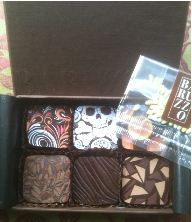 This box spent a long time in transit and so I was left waiting in anticipation of this lovely chocolate.  I first met Rafaella Baruzzo at Galler chocolates when I had been invited to an event as part of Qype (if I remember correctly).  I got a chance to go to Harrods's after hours – which was a massive treat – and got introduced to some interesting flavours from Galler.  Regrettably I never heard from Galler again probably because Rafaella had left to go do something even better – Baruzzo Chocolates
According to the website "every Baruzzo chocolate box is 100% Italian indulgence: traditional recipes with a contemporary twist."  This is very true!  The tasting notes included with the box reminded me of the summer flavours I had previously tried including the mojito flavour!  They were absolutely delightful and now there is a new selection.
The ganaches that Baruzzo make are slightly thinner than I'm used to and slightly larger.  This means the chocolate melts more quickly in your mouth, releasing the delightful flavours.  I have to admit that I loved the fact I got candy-coated cumin with this as it reminded me of the Kaori from Galler.

The new collection includes seasonally inspired flavours like Marzemino Grappa.  Baruzzo partnered with Astoria Vini to create an aromatic and complex ganache with notes of fruit, vanilla and wood.  It is distinctive and delicious without being overpowering or offensive.  You won't get drink on it but you will enjoy it!
Beyond the boozy chocolates lay some other interesting flavours including mandarin.  In this particular ganache, the mandarins used are from Sicily, belying Rafaella's roots.  This ganache has notes of citrus like lemon, organic flavours like green peppers and herbs and overall creates and interesting flavour sensation. It is yellow-white

Now… I goofed and ate the cumin with the coffee and aniseed and it tasted lovely but you're meant to eat it with the cherry and cumin ganache – DOH!  So I tried the cherry alone and then with cumin and it was exciting! It really changed the flavour of the cherry to make it pop!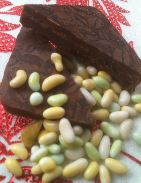 Coffee and Aniseed, Resentin  – According to the website in Northern Italy, Veneto Region, the word Resentin means "the little rinser". After drinking a cup of espresso, one pours a few drops of liquor on the remaining coffee, swirls the liquor whilst the espresso cup is still warm and drinks it in one shot. As you know, I tried this on its own and with the cumin and in both cases it was yummy!  I think I liked it better on its own though…
Liquorice: liquorice is a legume (a relative to peas and beans!!) and it is not related to anise, star anise or fennel however they have a similar tasting flavour. Baruzzo has mixed ground liquorice from Calabria with Ecuadorian chocolate to create an interesting ganache.  Strong and distinctive, this is absolutely liquorice with no question – WHOOO!
All in all a diverse and interesting collection I am so glad I ended on liquorice as I can still taste them small piece I had.  WOW!