March 16, 2013
Museum of Chocolate Launches in Brixton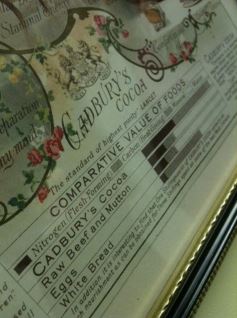 In what was once an undesirable part of town, more than just multi-million pound flats have been being developed. The new Chocolate Museum and Café has opened just around the corner from Brixton tube station, making it super easy to get to. With Paul Wayne Gregory just a short distance away as well, Brixton is quickly gaining chocolate cred.
The museum itself is on two floors but is mainly on the lower floor. There are some amazing old images on the wall, some great chocolate moulds, some beautiful chocolate boxes and great images. The shop has hot chocolate, Duffy's, Willie's and Melange chocolate as well as cake. There is lots to see in the museum and the chocolate had samples while I was there so it could be a great place to go to try before you buy Duffy's.
While I was there for the opening there was also chocolate and wine, chocolate and cheese and chocolate and beer pairings. I'm not sure if they'll keep running them but they were a lot of fun and well worth it just for the experience of seeing how flavours change and develop when you eat different things together.
The museum itself is unassuming and if you didn't know it was there you might miss it but it is worth a visit. I think it is a great space and would be perfect for events as well. I don't know if it is for hire but I can imagine being able to host some great press launches or small company events in the space.
All in all it was an absolutely fun visit to the new Chocolate Museum in Brixton in South London. Fun space, great stuff, worth a visit.