March 18, 2013
Easter Popcorn From Joe Sephs Reviewed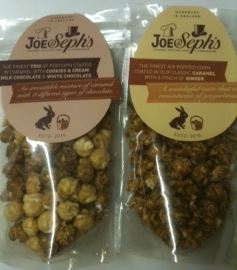 It may seem odd but the lovely folk at Joe & Seph's have created a pair of flavours for the Easter season. They also had a lovely popcorn flavour out for Valentine's Day so don't be surprised. I've finished mine and it isn't even Valentine's Day yet (yes, I reviewed this ages before posting 😉 ) but by the time you read this blog post I will likely have eaten more. Like maybe another 2 packs if I can buy more at Wholefoods or Harrod's.
I first learned of Joe & Seph's, I believe, over a year and a half ago at Speciality Food. I promised at the show to write a review and after receiving a sample, I did. Then I bought more. And then I bought even more and found myself telling people to buy it. I had clearly fallen in love with this popcorn. No longer was I satisfied with Double Double Butter from Kernels, or Creamy Caramel. No, Joe & Seph's had ruined my enjoyment of sub-standard popcorn for LIFE.
I suppose it must have been fate (well, actually the lovely people at Joe & Seph's) that brought to me their latest delicious wonder of the Easter flavours. These two lovely packs with their Easter egg labels (nice touch!) and Easter flavours were a treat to receive but how were they to taste? Well…
Ginger Caramel – this one says it tastes like gingerbread and I get that but it's like gingerbread with the ginger on steroids. The flavour is strong and almost overpowering. Husband liked it as he likes all things ginger so I may not get to finish the pack. This one is also a more traditional shiny and sticky caramel, rather than their thick and drier caramel I love, so it could be a bit of that too. It's OK, getrs stuck on your teeth a bit and is an all over caramel corn experience with a ginger kick. Definitely gingerbread in a popcorn.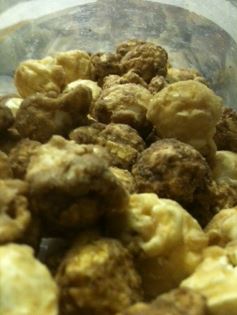 Triple Chocolate – advertised as chocolate, white chocolate and cookies & cream, this was my favourite popcorn. I went through this whole bag experimenting with flavour combinations – on their own, in pairs, in threes, with different balances in the mix, whole handfuls stuffed into my mouth. This was sweet but yummy – and when I say sweet I don't mean just from the caramel. The cookies and cream was an especially sweet flavour but in combination it was a bit calmer. The white chocolate wasn't as sweet as I expected and the chocolate was brilliant.
Out of the two, I liked the trio of chocolate best but husband preferred the ginger. I know everyone has a different palate so I'd suggest buying both if you're not sure or if you like your ginger buy the ginger and if you dig sweet get the trio of flavours.