March 29, 2018
Mini Lemon Meringue Pies Recipe from @konditorandcook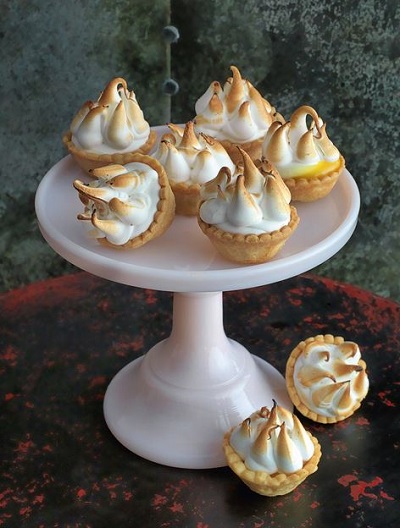 These mini lemon meringues are a little labour of love and will disappear faster than you can make them. To give them that wonderful, toasted, two-tone finish, you will need a blowtorch – easily available from a DIY store. Otherwise just pop them in the oven until brown and serve!
The recipe for these perfect springtime tarts comes from Konditor & Cook who have a recipe book out which you can buy here: https://konditorandcook.com/deservedly-legendary-baking.html (I wasn't asked to plug the book – I just think if you like the recipe you totally should get the book!)
Konditor & Cook is a 21st Century family-run cake business. Since 1993 the company has shared its passion for baking with Londoners. With its six stores across London, a same day cake delivery service and a Cake School, there is no better place to share in the joy of cake than Konditor & Cook… especially if it just happened to be your birthday recently… *whistles*
Makes 24
Ingredients for the three parts to these tarts:
Sweet Pastry:
50g Caster Sugar
1 medium egg yolk
100g salted butter, cut into cubes
150g plain flour
Lemon Curd:
100g caster sugar
100g unsalted butter, diced
juice of 2 lemons (about 100ml)
2 medium eggs
Meringue:
2 medium egg whites
a pinch of salt
a few drops of lemon juice
120g caster sugar
Method for each of the three parts to become one amazing mini tart!
To make the Sweet Pastry:
Put the sugar and egg yolk into a mixing bowl
Combine briefly with a wooden spoon, then add the butter.
Using the spoon or your fingers, blend them until they come together.
Sift in the flour and quickly work everything into a dough.
Shape into a flat slab, wrap in the cling film and chill for 1hr before use.
Grease two 12-hole 5cm mini-muffin tins with a little butter.
Roll out the pastry on a lightly floured surface to 3mm thick and cut out circles with a 6.5cm fluted pastry cutter.
Use them to line the tins, carefully pressing the pastry right down into the base.
Chill for 30 minutes. Heat the oven to 180°C/Gas Mark 4. Line each tartlet case with foil and fill with beans or rice to bake blind.
Bake for 15 minutes, then remove from the oven, lift off the foil and beans or rice and return to the oven for about 5 minutes, until golden.
Remove from the oven and leave to cool.
To make the lemon curd:
Place all the ingredients in a heatproof bowl and set it over a pan of simmering water, making sure the water doesn't touch the base of the bowl.
Cook, stirring constantly, until the mixture starts to thicken. To check whether it's thick enough, dip a wooden spoon into the curd, then run your finger down the back of it; it should leave a clear channel.
Pour the curd into a clean bowl and leave to cool.
Pipe or spoon a heaped teaspoon of lemon curd into each tartlet.
To make the meringue:
Put the egg whites in a large, clean mixing bowl.
Add the salt and lemon juice and start beating with an electric mixer.
Once bubbles begin to form, begin to add the sugar a tablespoonful at a time and beat until you have a stiff but silky-looking meringue.
Using a piping bag fitted with a 5mm plain nozzle, pipe circles of small peaks on each tartlet.
Place in the oven with both the fan and grill switched on and leave for a few minutes, until browned – or use a blowtorch to caramelise the meringue evenly all over and give a defined two-tone effect.