April 19, 2018
FREE COFFEE at Old St Station from Percol Coffee – But Bring Your Own Cup
Dates : Wednesday 18 – Friday 20 April
Timings: 7.30am – 6pm on Wednesday and Thursday and until 5pm on Friday
Address: Unit 8, Old Street Roundabout, London, EC1Y 1BE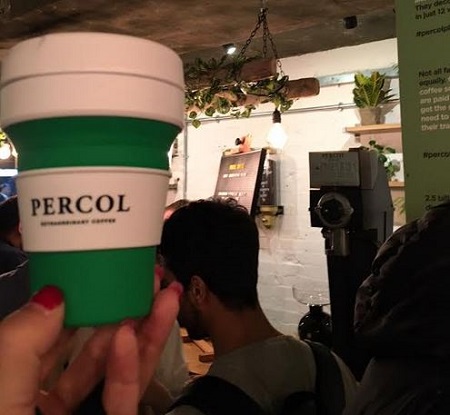 This April, Percol Coffee will bring the world's most sustainable coffee shop to Old Street Station to tie in with UK Coffee Week. From Wednesday 18 – Friday 20 April , Percol will create an immersive pop-up coffee shop with the aim of encouraging consumers to make small changes to their daily coffee routine to become more sustainable.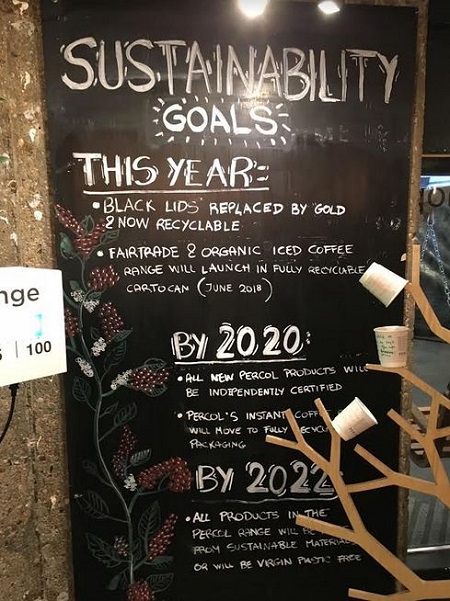 The pop-up will demonstrate its world's most sustainable coffee shop title in various ways. Most importantly, all coffee will be ethically sourced and served in reusable cups. Customers will be able to buy the reusable cups on site and will receive free coffee for the duration of the pop up if they do. Furthermore, if customers bring their own reusable cups they will also receive a free Percol coffee.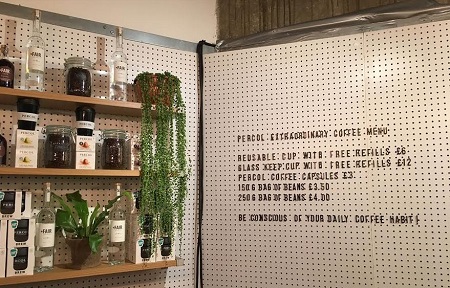 The coffee grounds used during the pop-up will be upcycled by their sister company, Green Cup , who Percol work with on a permanent basis. An example of how the used coffee grounds can be used will be seen in some of shop furniture which has been made by Smile Plastics using recycled plastic. The furniture will go on to their second home in the new Percol head office in London once the pop-up has finished. All the fixtures in the pop-up will be recycled and repurposed once it's over and they are hoping to roll out this pop-up nationwide to spread the sustainable message.
There are 2.5 billion single-use coffee cups thrown away every year in the UK alone and Percol has pledged to make a difference. The site will be entirely single-use-plastic-free. Milk will be sourced from Parker Dairy's a local dairy and using only glass bottles and dairy alternatives supplied in recyclable packaging and there will be no disposable straws, stirrers or cups.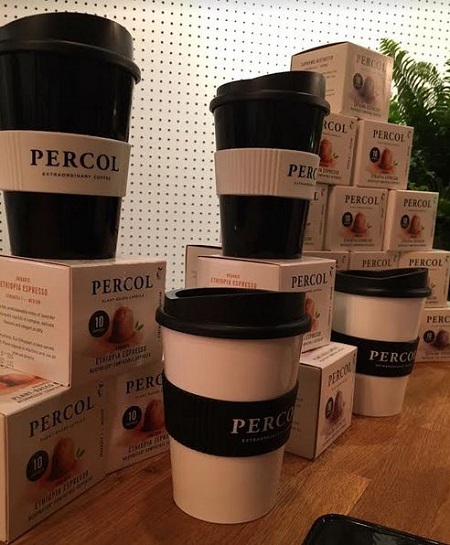 Percol will be limiting the amount of paper on site and operating a cashless operating system with receipts emailed to customers. Cloths will be washable and no blue paper roll will be used. Any paper that is used will be recycled responsibly.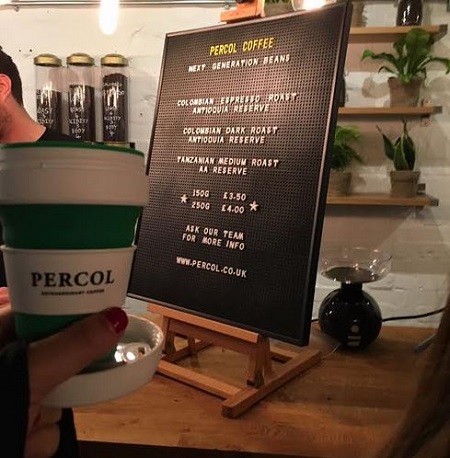 Percol will be using exercise bikes to demonstrate how much energy is needed to power certain elements of the coffee shop; for example, pedaling for five minutes will power the coffee machine for 11 seconds and four minutes will power the fridge for 15 seconds. The brand wants to make consumers more mindful of how much energy it takes to power the gadgets they have in their homes and lives.
On entering the pop-up, consumers can pick from a fantastic array of Percol's Next Generation Coffee Beans served in glass dispensers. The Next Generation Coffee is produced using 100% renewable energy. Recycled Kraft paper bags will be available for customers to buy either 150g or 250g of beans and there will be state of the art coffee grinders on site so consumers can grind their own beans and Percol's award-winning plant-based compostable Nespresso compatible capsules will also be available to buy.
Percol's SCA-trained baristas will be on hand to talk to customers about ways to make your coffee more sustainable, like using a milk alternative and bringing a reusable cup.
Percol is committed to their work in sustainability; making green changes in their production lines and supply chains but even more importantly, by supporting young coffee farmers. Second only to climate change, the diminishing number of young coffee farmers poses a real threat to the future of coffee. Through education and financial support in the forms of quality supplements, premiums and direct trading, Percol is improving development opportunities for the next generation of coffee farmers in Tanzania and Colombia through their 'Next Generation Coffee' project. During the pop-up, consumers can use VR headsets to watch a video about Ana-Maria Zapata Palacio, one of the Next Generation farmers supported by the project in Campo Alegre, Colombia.