June 4, 2012
Matcha Tea Cheesecake Pop Reviewed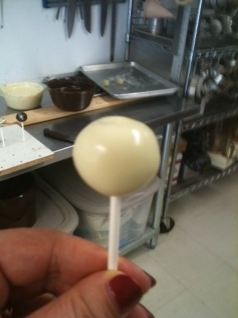 I have before extolled the virtues of Chef Patrice's One Pop cheesecake lollipops. They are, perhaps, the ultimate item to have at your birthday party or corporate function. I cannot imagine anything better than a function with cheesecake lollipops and neither can Porche.
Name dropping aside, I had the chance to visit the kitchens where the magic is made and try one of the new concoctions they had been cooking up.  This time it was a freshly made matcha tea cheesecake lollipop.
Now, before you get too confused, this cheesecake lollipop involves no graham cracker crust. It is all the goodness from the middle and nothing else.  The cheesecake is slightly firmer than a traditional slice might be but this makes it no less creamy, no less melt-in-the-mouth delicious. I don't know how they do it but I suspect it involves fairy dust and magic.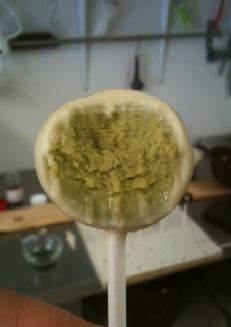 The cheesecake in this case is a creamy but firm plain with matcha tea added in. The matcha doesn't have the typical seaweed flavour and white not top notch, expensive as gold matcha, it is still quite delicious and distinctly matcha without being overpowering.
The white chocolate here I think, while sweet, does compliment it because that sweetness cuts a bit of the matcha flavour for me. Absolutely delightful and delicious and I wish I had more 🙂 Here is their cheesecake lollipop website WAHEY!