October 6, 2010
Masala Chai Caramels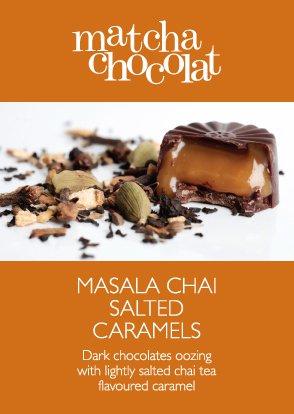 I got the chance to try the Masala Chai caramels from Matcha Chocolat before they were even released.  These yummy caramels had the slightly molasses flavour I enjoy from a caramel without too being too overpowering.
What kept me eating chocolate after chocolate was the masala chai flavouring.  Matcha Chocolat is all about tea and the infusion here was different and quite unique.  Whereas a more delicate tea flavour might have been lost in the molasses or sugar flavour which is going to be strong in a caramel, the spice associated with chai comes through distinctly, without tasting like an explosion in a Christmas factory.
The caramel is just buttery enough for me to get the merest hint of a chai latte but other chocolates in the range do that for me in a much better way.
The chocolate shells are quire thick and structured but when I bit into one and thus bit it in half, the shell did not completely collapse but the somewhat fluid centre did threaten my shirt!  Thankfully all of the caramels were enjoyed without mishap!
Adding a flavour to a caramel isn't new as Artisan du Chocolat does do this for their caramel ball range but this masala chai flavour is one of the nicest flavours around.
I liked them so much, I want to share the pleasure!  To be in with a chance to win a whole BOX of Masala Chai caramels from Matcha Chocolat, like this post on Facebook, comment below, or tweet I read about Masala Chai caramels @mostlyaboutchoc and now I want some like this http://bit.ly/aKk9Lt or all three if you'd like! One entry per medium though so tweeting 6 times is one chance to win but tweeting, commenting and liking is three chances!
***WINNER*** Blog commenter Choclette has been randomly selected as the winner of the Masala Chai caramels – >yummy<