November 14, 2012
Mark Hix Chocolates made by Melt Chocolates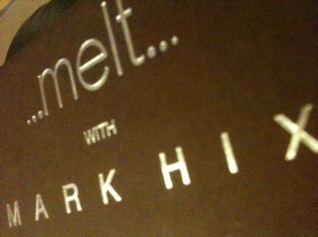 I was extremely lucky to be given a box of Mark Hix chocolates by the lovely folks at Melt whom I happened to visit at just the perfect time. These are absolutely limited edition so once they are gone, they are gone – which is sad because they were delicious!
Mark Hix is an English chef and restaurateur. Celebrated chef, restaurateur and food writer Mark Hix is known for his original take on British gastronomy.  Then after 17 years working in the industry, he opened a restaurant. A kind of posh and inaccessible kind of restaurant that gets spoken about in hushed tones but no one normal ever eats at.
Mark Hix has made himself into a bit of a legend and legends need legendary chocolates. These will be being served at his restaurant right now if they haven't sold out already) and they are delicious. I don't know if you get all four or if you have to choose but each has a different appeal.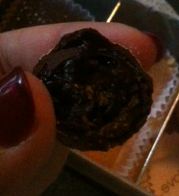 Blackberry – a ball of fruit compote deliciously created to balance sweet with tart. In a dark chocolate shell powdered in what seems to be a tart blackberry dusting. It is more than a mouthful  but you could possibly eat it in a single mouthful 😉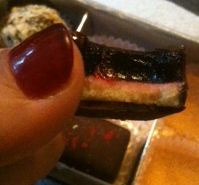 Rose Hip – This is a layer of jelly and a layer of white chocolate to combine together into a silky mouthful. The rose hip flavour is subtle (especially if you compare it to the elderflower) but still distinct. It is a different take on flavouring chocolate as rose hip is new to me (though I like it with hibiscus in tea). Delicious to clear palate after a meal.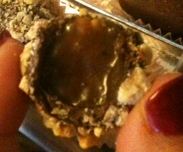 Hazelnut – this is a runny caramel and rather sweet. It is very nutty and while hazelnuttyness is good, I prefer less but I know a lot of you LOVE nuts. I'm not sure they are roasted as they are a bit squidgy but they are flavourful and deliver a nutty punch.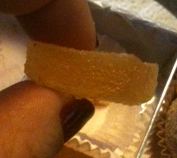 Elderflower – this is my favourite of the batch. No chocolate here but just pure jelly fruit pate goodness. It is tart and sour and full of flavour and each small bite delivers a fruity explosion in my mouth. I wouldn't say I got a distinct elderflower flavour but that could be the sheer intensity.
Over all these are amazing after dinner chocolates. They are available from Melt pre-boxed for a limited time so grab them soon!