March 13, 2014
Maille – More Than Mustard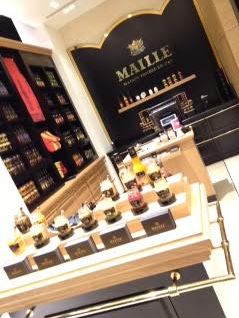 There is a movement afoot. I perhaps wouldn't have called it a movement before Grey Goose's Boulangerie but post that particular experience I find myself seeing these specialist shops popping up all over the place. Single brand expositions of all that one label has to offer, usually to help it stand out from other labels the brand owns like Unilever or Diageo. Whether it is an East India Company store off Regent Street or a popup Magnum shop offering customers customised Magnums, The single brand outlet seems to be becoming a popular way to create buzz about a brand and differentiate it from others in the marketplace.
Take the mustard market. I doubt that anyone would be aware of the fact that there are pretty much only two players in the mustard market on my supermarket shelf at my local Sainsbury's – Unilever (Colemans and Maille) and French's (Reckitt Benckiser – yes the ones who own Durex) and of those, only Unilever has significant numbers of food categories. In fact I believe French's may be the only food product in the UK (unless Strepsils count).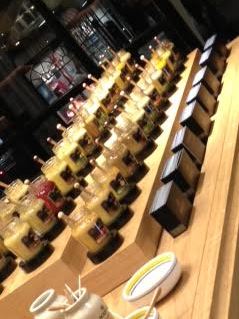 So what is a Unilever brand doing with a shop on Piccadilly? One step into the quaint French interior is likely to explain a lot. Fully branded for Maille, this is more than a brand showcase. This shop in the same fashionable arcade Prestat can be found in, next to Fortnum & Masons, is a step into France. There are three pumps which at first look weirdly like beer pumps but they are dispensing mustard into Maille's traditional and easily recognised mustard pots. These three pumps ma be for mustard but they aren't your average mustard. One pump I noted was marked "mustard with Chablis white wine and black Truffle" and apparently these clay pots are brought back again and again for refills. I'd buy my dad some but I don't know if Maille will be opening in Toronto soon enough 😉
So while the pumps aren't beer, the rest of the shop isn't just mustard. I was fascinated to learn they make flavoured vinegars and a balsamic. In fact they have blended their honey mustard with their balsamic vinegar to create something that could be consumed on its own, it is so mild and sweet. I would almost call the honey mustard and balsamic a spread because of that mild, sweet flavour. The mustard is almost simply a carrier for the honeyand balsamic but it adds a depth without heat. Definitely one to try – and you can try them all!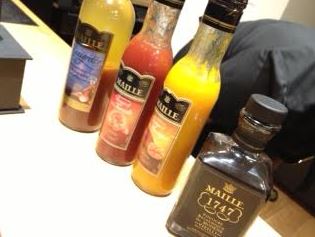 While I was at the shop I tried, mustard with olives, Cassis de Dijon which was one of the first flavours and still the most popular, Gingerbread which was a cacophony of flavour and just amazing, Marc de Burgoyne which is made with real cognac and many others. The heat from the mustards wasn't too strong and so we were able to try lots.
We also tried the fruit vinegars. Now, those fruit vinegars wre absolutely wild! There was the acidic ketchup (well, vinegar with tomato) and the fruity mango which were just wild. To have the sweet fruit and tangy acidic vinegar was weirds. While some spoke about bloody mary's, I was on to the balsamic. Sweet, deep and somewhat complex, the youth of this balsamic was evident (3 years old) and yet it was still delightfully full bodied and sweet. The tangy edge reminded you of the youthful age of this balsamic and yet it was still delightfully sweet and just thick enough.
All in all, this shop feels like a full brand emersion. There is no hint of the Unilever ownership and the brand's roots are able to shine through. A beautiful shop, an amazing experience and a bit of France brought to London.