August 26, 2016
Luxurious Whisky Cocktails for Your Johnnie Walker Gold Reserve Alexander & James Gift Set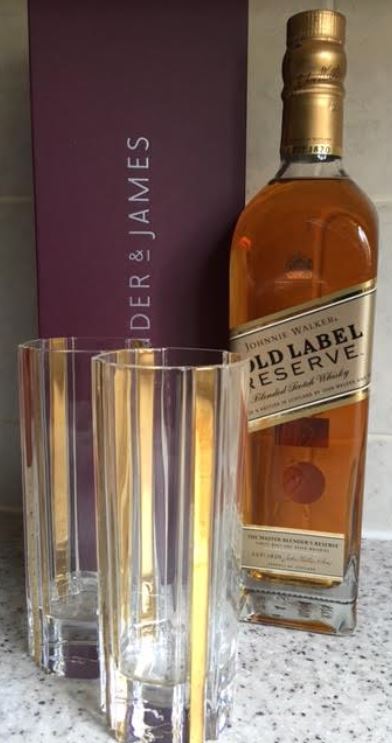 It isn't often outside Christmas that I indulge in a bit of alcohol gift set shopping so when I was offered my choice of sets from Alexander & James I decided to be a bit of a rule breaker (as I am) and opted for the absolutely indulgent and luxurious gold label special reserve from Johnnie Walker. With a 70cL bottle of Johnnie Walker Gold Label Reserve whisky and two gold plated glasses, this was a special whisky gift set for a special occasion.
A beautiful whisky deserves a beautiful cocktail and after being send the beautiful Gold Reserve Johnnie Walker with a set of gold plated Johnnie Walker glasses as a gift set I knew I had to create something special. I chilled down some of my favourite tipples and got mixing, eschewing the internet recipes in favour of freestyling and creating something special.
These cocktails have been designed specifically for the Johnnie Walker glasses based on the proportions but you can use a nice not too large tall glass which holds around 200mL of liquid. If you go with a bigger glass the flavours of at least two of these cocktails will be off so take care when measuring.
Given that this gift set is not only perfect for gifting for a gold wedding anniversary, a golden occasion or any time Spandau Ballet's "Gold" is played 😉 why not gift yourself a set and try some of the cocktail recipes I've developed below. They are all different and brilliantly luxuriously indulgent – if also a bit rebellious.
I've given these meaningful names based on why I created them and blended them the way I did. While not an expert mixologist, I based these on the fully evolved flavour of the final blending.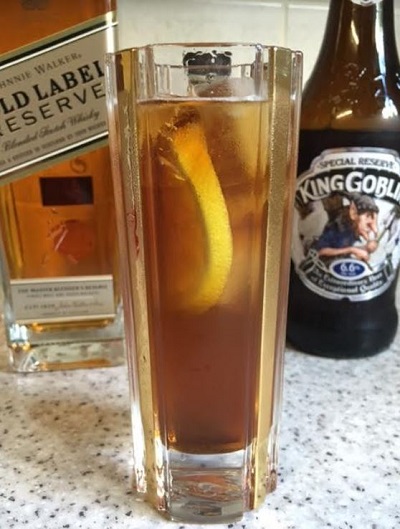 Lady Rule Breaker
50mL Johnnie Walker Gold Reserve
2 tsp maple syrup
Special Reserve Hobgoblin beer
Ice
Mix the Johnnie Walker and the maple syrup together and shake with ice. Strain the ice off and pour the sweetened Johnnie Walker into the glass. Add 2 ice cubes and a full slice of lemon. Top off with Hobgoblin.
This cocktail is good if you like that slightly bitter taste of a dark beer, but I've softened it here with a bit of Ontario maple syrup. There is only a small amount of smoky peatiness on this whisky so the whole thing comes together quite nicely.
This is about breaking the unwritten rules about women not drinking whisky or beer – this cocktail breaks both of them at the same time!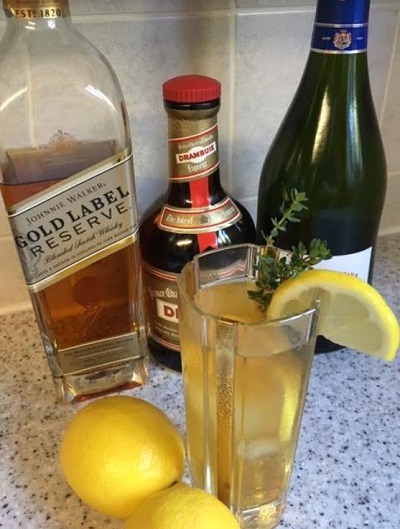 Golden Whisky Bubbly
50mL Johnnie Walker Gold Reserve
25mL Drambuie
1tsp lemon juice
Champagne, special reserve Cava or Prosecco
Ice with gold leaf
Mix the Johnnie Walker, Drambuie and lemon juice together, shake over ice and strain into glass over 2 ice cubes (gold leafing optional) and the slice of lemon. Top the mixture off with champagne or prosecco and garnish with lemon thyme and a slice of lemon.
It is important to cool down the spirits in this drink by shaking them over ice or the flavour won't work. I found this worked best with a sweet prosecco but all three trials were delicious. The blanc de noirs cava worked if I added a bit of sugar to the whisky and Drambuie before the shake over ice (around half a teaspoon) and the champagne made a more tart cocktail if you prefer that sharp tang (I didn't try it with sugar). I tested this recipe most with the cava but eventually on testing all three together personally preferred the prosecco blend but feel the cava allows the flavours to shine in the whisky.
I originally created this with Laurent Perrier champagne to be an expensive indulgence, adding some gold leaf to the ice cubes before popping them in the glass to really increase the sense of luxury. It is meant to be sipped slowly while enjoying afternoon tea with friends or just looking out over the scenery on the balcony of a holiday location.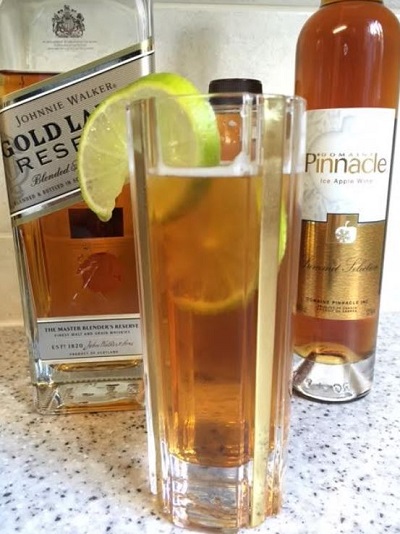 Canadian Creature Comforts
50mL Johnnie Walker Gold Reserve
50mL Ice Cider
1 tsp maple syrup
Dash of lime juice)
Ice
In a glass put three ice cubes and one slice of lime (must me lime) ready. Mix the Johnnie Walker, ice cider, lime juice and maple syrup together in a shaker over ice and strain into the tall glass over 3 cubes of ice and slice of lime. Garnish with lime or apple slice.
I created this specifically with ice cider after experimenting with other flavours blended with Johnnie Walker Gold Reserve. I almost went with ice wine but felt the concentrated apple flavour, sweetness of those concentrated flavours all balanced with tartness and overall flavour profile worked best. I used Pinnacle Ice Cider but as ice cider will be difficult to source use whichever one you can find.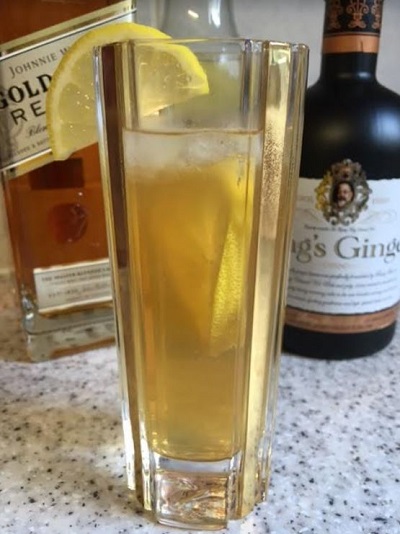 A Pair of Kings and an Ace
50mL Johnnie Walker Gold Reserve
50mL the Kings Ginger
2tsp lemon juice
Fevertree Ginger Ale
In a glass place three ice cubes and a slice of lemon. In a shaker, combine the Johnnie Walker, Kings Ginger and lemon juice and shake with ice. Strain and pour over the lemon slice and ice. Top off with Fevertree ginger ale and add a lemon garnish.
This drink was absolutely amazing. Chilling the Kings Ginger and Johnnie Walker over ice before adding it to the drink is essential as the flavours change with the temperature and that little bit of liquid from the ice just cuts the alcohol. The lemon juice really lifts this drink as well. You could add more ginger ale in a taller glass but this was absolutely perfect in the Johnnie Walker glasses from the set.
My husband claimed the final iteration of this cocktail and has absolutely fallen in love with it. I think I'll be needing to buy more Kings Ginger soon!
So there you have it – four cocktails that work perfectly with this set, all developed specifically to be a luxurious experience enjoyed slowly. Of course, I recommend to always drink responsibly so please choose only one and never, ever drive after drinking.
This is a sponsored post