November 23, 2012
Lindt Christmas Treats Collection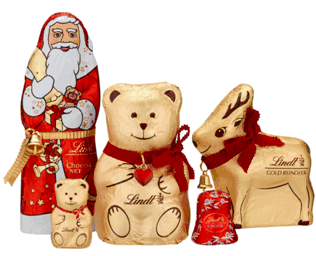 Yep – it's Christmas and every Christmas there are certain things I always look forward to.  One of them in tied up with memories of my grandmother – who I lost not long ago. She was the one who first gave me Lindt Lindor chocolate truffle balls.
When I was a kid, I was picky about my chocolate. At Hallowe'en I would go through my sack, separate the candy into piles and have a pile of premium (favourites), edible, and discard. You can imagine the hell my parents went through after Hallowe'en as I was on a perpetual sugar high). What I never knew was that delicious milk chocolate could come in a ball.
One Christmas my grandmother gave me a bunch of these brightly coloured balls. I thought they were weird Hungarian candy and so left them. Once I sussed they were chocolate, I dug them out from the bottom of the sticking and gave them a try…
Heaven. The inside was liquid, the outside soft and it was all deliciously sweet chocolate. And for me now, Christmas is not complete without Lindor and After Eights (though the latter are no longer favourites as they taste different). But it doesn't stop there – that delicious Milk chocolate comes in a variety of shapes and sizes as you could see by that Christmas image. Most are hollow milk chocolate though the bell and ball decorations have melting centres.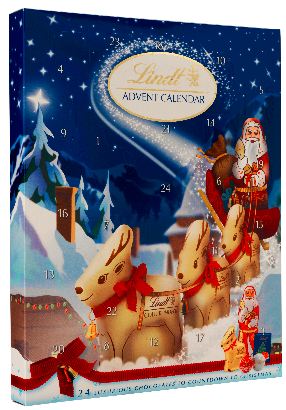 Advent calendars are probably the best part of Christmas (or a day because you know – 24 windows, 24 hours in a day… I'm just sayin'…) and Lindt has a fun one. Not only does each window have a different chocolate treat, one of the hidden chocolates is a SANTA! Ya – I KNOW!  Where else do you get such fun? I'm totally digging on the advent calendars I was given and while I wasn't given this one, if I was, I wouldn't say no! Mind, I know how all the bits taste, having tested them before 😉 but I'm always happy to try more 😉
Well, you know you can get Lindt and Lindor for all the best supermarkets so hurry – run down and grab one!