November 22, 2012
Damian Allsop Launches New Pop-Up Shop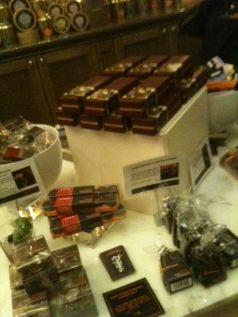 In the rather plush surroundings of the Corinthia hotel, Damian Allsop has launched his pop-up shop for Christmas. His unique CH2OCOLATE creations – and of course the new exclusive festive flavours – are now all available to buy on a whim and individually through the pop-up.
The Corinthia Hotel (I keep wanting to write "fine Corinthian leather") is an absolutely glamorous hotel next to Embankment station, a short walk from Charing Cross station. As soon as you walk in to the lobby, you are transported into another world – one of quiet luxury. I almost expected a lone piano player to be softly playing Gershwin or other subtle show tunes as patrons chattered around him, low light and low dresses the order to the day.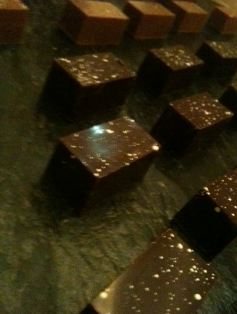 It was sadly not a scene from a Bond film (or Casablanca) however the reality was quite close with formal attire the norm and a hushed buzz in the bar area on the evening I was there. The pop-up shop is in the Harrods shop (well, so says the sign above the door) and it is just up a few steps from the main door. The area houses a florist, the chocolate shop and some lovely Harrods gifts for the 'busy exec' who is shuttled around the world but can never enjoy the city. Good thing Damian will be there Thursday to Saturday all through the rest of November and December (with an extra open date of Dec 23rd).
There are the usual amazing chocolates on offer as well as a special exclusive set of Christmas chocolates exclusive to the hotel. The chocolates are also available loose for only £1 each with the clouds only £0.75 each. Absolutely wonderful!
If you've ever wanted to try Damian's water-based ganache, now is your chance. In fact, not only can you see his chocolates at this pop-up, you can also catch him in person with his chocolates at the Southbank Chocolate Festival Dec 7, 8 & 9th You can find Damian Allsop Chocolates online HERE and directions to the Corinthia HERE.