July 1, 2015
La Marzocco and Union Hand-Roasted among London Coffee Festival Award Winners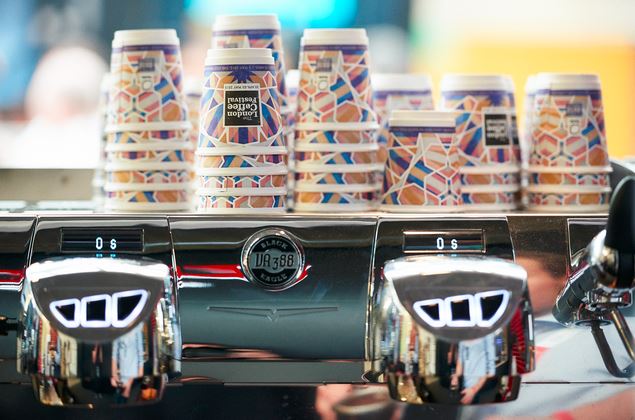 Following the fifth edition of The London Coffee Festival, Allegra Events is proud to announce the winners of this year's London Coffee Festival Awards.
Both industry and consumer visitors voted for their favourite stands, festival experiences and most innovative products as part of the post-event survey that attracted almost 1,500 votes.
With eight awards available – and more than 250 exhibitors – competition for each highly coveted award was fierce.
Union Hand-Roasted took home two awards, with their Pop-Up Roastery being voted the Ultimate Coffee Experience – for the fourth year running – and the Most Engaging Stand Experience. Founders Jeremy and Steven brought along their San Franciscan roaster to demonstrate live roasting and visitors could also take part in the exciting Pro-Am Flavour Challenge.
Jeremy Torz, Co-Founder of Union Hand-Roasted said: "This year's festival has proved that passion and excitement for specialty coffee is still growing. We are pleased to have won both Ultimate Coffee Experience and Most Engaging Stand since spreading the joy of coffee is what we love to do most.
"To see crowds gather to watch our live roasting sessions showed real interest in what we do (I even lost my voice after the 10th session!), while the competitive buzz around our Pro-Am Flavour Challenge was exciting. We are thrilled to be recognized in the awards by the visitors who came, saw and enjoyed our coffee."
La Marzocco also won two awards, including Favourite Key Feature for the party atmosphere of the True Artisan Café with live DJs and exciting signature drinks from more than 30 European coffee shops. The espresso machine manufacturer was also awarded the Most Innovative Product Industry Award (voted for exclusively by members of the coffee industry) for its new Linea Mini domestic coffee machine.
The Most Innovative Consumer Award went to Minor Figures for its popular cold brew and Arancini Brothers took home the award for Favourite Food Experience following the popularity of its risotto balls.
"Thanks to everyone who attended, LCF, and Allegra for another great show. It was a pleasure to be a part of it and see London's coffee culture continue to flourish. This is first time Minor Figures Cold Brew has attended and we will be sure to be back," says Minor Figures Co-Founder Stuart Forsyth.
Starbucks took home the award for Favourite Stand Design, with their stand this year inspired by the new R roastery in Seattle. Ian Cranna, Starbucks Vice-President for category and marketing in Europe, the Middle East and Africa, said: "The London Coffee Festival is a high point of our year and it means a lot to have our stand voted the Visitor's Favourite.
"Our passion for coffee is rivalled only by our love of sharing it, our talented design team and expert baristas who were thrilled to be there in the heart of London's vibrant coffee scene. Winning the award this year is especially exciting for us as, with our stand design and the chance to experience some of the rarest coffees from around the world, we brought a bit of our Seattle Reserve Roastery and Tasting Room experience to London. We congratulate Allegra on yet another successful event and thank all the visitors who voted for our stand."
The coveted Favourite New Exhibitor award went to Square Mile Coffee Roasters who showcased the Victoria Arduino Black Eagle machine. "The London Coffee Festival was an incredible experience for us this year," says Managing Director, James Hoffman. "Brewing coffee for, and chatting with, the thousands of people who attended was both hugely fun and incredibly rewarding. We're delighted to hear that those attending the festival enjoyed it too!"
"We would like to extend a huge congratulations to all of our winners," added Festival Director Ludovic Rossignol. "We were overwhelmed with the quality and uniqueness of this year's stand designs and engaging coffee and food experiences displayed at this year's festival. Every year our exhibitors continue to push boundaries and create exciting coffee experiences to enrich The London Coffee Festival."
The London Coffee Festival took place from 30 April – 03 May 2015 with more than 23,600 visitors across the four days. Dates for next year's festival have been announced as 07-10 April 2016 and exhibitor bookings are now open.
The London Coffee Festival has also created a new event, The House of Coffee & Co. which will take place at Victoria House from 05-08 November 2015.
Full List of Awards
Favourite Key Feature
La Marzocco's True Artisan Café
Ultimate Coffee Experience
Union Hand-Roasted (fourth year running)
Most Engaging Stand Experience
Union Hand-Roasted
Favourite Stand Design
Starbucks
Best food experience
Arancini Brothers
Favourite New Exhibitor
Square Mile Coffee Roasters
Most Innovative Product
Minor Figures Cold Brew
Most Innovative Product (Industry Award)
La Marzocco's Linea Mini Domestic