September 29, 2014
Idilio Finca Torres Chocolate Bar Reviewed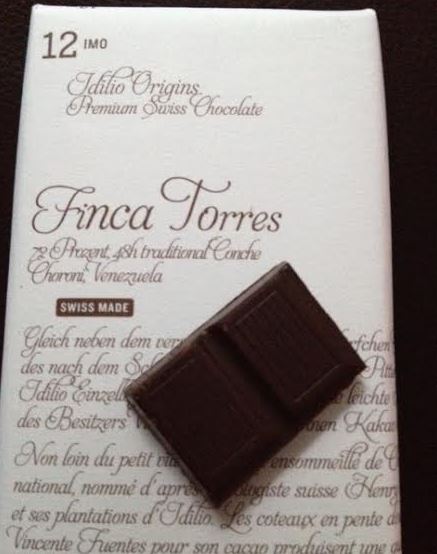 This bar, Finca Torres 72 percent, was apparently discovered by Idilio about six years ago. Both of the owners were struck by the remarkable potential of this single-origin cocoa growing on the slopes of the national park on the coast of Venezuela which is in the area of their other Venezuelan chocolate the Chuao bar. The owner of the plantation Vicente Fuentes is passionately interested in producing a top-class bean.
This bar is a 72 percent dark chocolate chocolate bar. It gets 48h in a traditional conche and like the Chuao it comes from Choroni, Venezuela.
The Idilo site says: "Right next to the sleepy colonial village of Choroni below the enchanted forests of fog, named after the Swiss biologist Henry Pittier National Park is the exclusive Idilio single location Hacienda Torres. The slight slope, the ideal climate and the passion of the owner Vicente Fuentes for his cocoa bring forth a unique aromatic quality."
I find it interesting that both their Chuao and this Finca Torres come from the same area but taste so totally different. This chocolate has a deeper flavour with an almost chalky edge. There's a lot of earthiness to this chocolate despite the Chuao being so light. This chocolate is deeply dark and very intense. There is a heavy nib flavour to this chocolate as well but it is intensely chocolate with no acidity at all. There are no fruit flavours but it isn't nutty either.
Not bad but I would have said it was Peruvian rather than Venezuelan.  You can buy it online at www.idilio.ch plus you can read about where you can buy it locally.