December 5, 2013
Fudge Fancies Christmas Pudding Fudge Reviewed
I love Fudge Fancies fudge. I love the softness, the chocolate caps and the amazing flavours. I just really love them and if I was closer, I'd be fatter because I'd be buying so much more… like I'm doing right now with Paul A Young 😮
But we're not here to read about my gluttony (or maybe that *is* why you read this blog!) we're here to read about these lush Christmas puddings in fudge!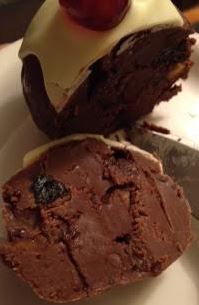 The puddings contain Raisons, Sultanas, Cherries, Almonds, Peel, Nutmeg, Cinnamon and Fudge Fancies' very own Crab Apple Sherry.  They are then topped with white chocolate and a glazed cherry – it is just like the taste of Christmas in fudge form.
These are large balls of fudge as I hope you can see. There is a *LOT* of fudge here and you are getting value for money so if you're looking for something different, give the gift of Fudge Fancies Christmas Fudge Pudding.