December 6, 2013
Edens Gourmet Apples Caramel and Chocolate Apples Reviewed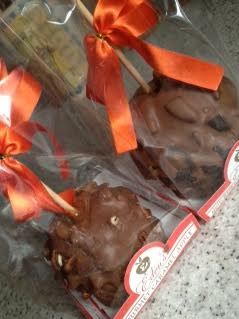 I love apples but sadly apples don't love me back as I am allergic to them. This minor setback, of course, did not stop me reviewing and making myself ill on the brilliantly amazing Eden's Apples. Why? Because they are addictively awesome.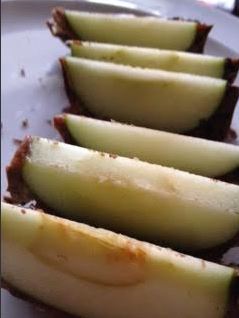 Now, I must take exception to the assertion made on the website that these apples serve 6 – 8. They serve 1 for breakfast (hey – it is an APPLE and those are healthy for breakfast!) or 2 for dessert. If you are buying some for a party, I'd order probably one for 4 people, assuming there will be cheese…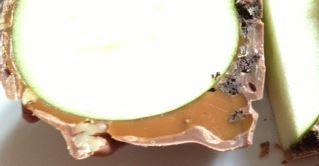 The apples arrived perfectly in their bags with a cute bow on each stick. The clear cellophane means you can see how beautiful the apples are before cutting in to them. The caramel literally oozes around the stick meaning you can take a cheeky taste before cutting.
I used the advice on the website on how to cut them into pieces. I did absolutely cut them into around 10 pieces and ate every single one while watching reruns of Wonder Woman on TV (I found out Linda Carter doesn't make any royalties on them – for shame 🙁 ). Well, the first one. I shared the second one with husband.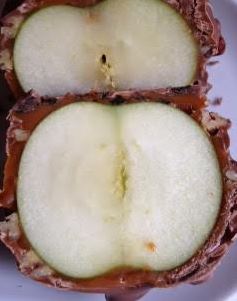 Caramel Chocolate and Pecans – my absolute favourite. The caramel is absolutely gorgeous. The flavour is divine and it is nice and sticky and thick to stay on the apple. The chocolate is sweet but inoffensive and balances off well with the caramel and pecans. The combination of caramel, pecans, chocolate and a green apple is absolutely delicious. As you've read, I could absolutely not help myself. There is a crumbly Oreo base but it doesn't make much of a difference since the pecans are the star favour.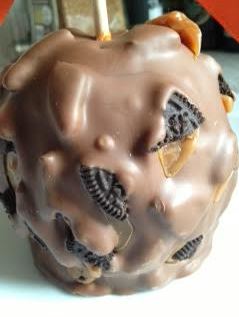 Oreo Cookies, Caramel and Chocolate – this apple was only a little different. I think it was really nice and possibly had slightly less caramel than the pecan one. That's not a bad thing and I did enjoy the crunchy cookie, creamy caramel, sweet chocolate and sharply tart apple. The chocolate works well against the apple and again the caramel is absolutely gorgeous. I loved the "foot" on the apple where the cooling chocolate puddled a bit at the bottom.
Overall the flavour of these caramel apples is gorgeous. They are delightfully tasty with an extremely generous amount of caramel and are absolutely smothered in chocolate. I unhesitatingly recommend them as delicious and genuinely suitable for dessert or a party 🙂 They are not inexpensive but they are WORTH it!