October 3, 2012
Ford Open Doors Presents Paul A Young Chocolate Masterclass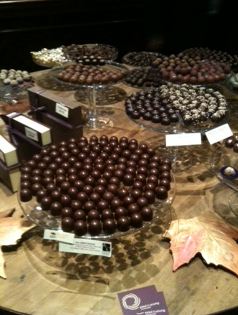 There's something you don't read every day – what in the world does a car company have to do with chocolate? I mean, you can use one to transport chocolate, you can eat chocolate within one but why would a car company sponsor a chocolate masterclass? Well, I went to the website and it isn't the only thing they've been giving away free tickets to! Regrettably the free tickets events are almost over but you never know – they might do something in the future…
Also on the website you get to see what this car is all about. This is a blog about chocolate and mostly, cars don't interest me. Unless they are made of chocolate. But I must regrettably admit that upon looking at the new Ford B-Max I… I *sighs* I regrettably must admit that I found it a practical car with a really brilliant feature – the back door slides open. I'm not saying any of this because I went to the class but because I've been boring the socks off anyone who stands still long enough for me to talk about how my gran, when she was alive, would have been able to get in and out of this car so much more easily and how filling it up with kids would be so much easier and just how much easier life would be with a sliding door. The one down side? It slides like a van, not a Delorian.
Anyway – to the chocolate or I'll keep boring your socks off because I'm weirdly genuinely impressed with this car. There I go again – I'll shut up now. Anyway – the masterclass with Paul A Young (which is why you're reading this – not to hear about my fascination with a slidy door which is clearly rooted in my childhood love of "Back to the Future"). The Ford Open Doors prize of a masterclass with Paul A Young apparently had the most entries of any of the other experiences. There was one with wine and he beat that – AWESOME! Probably because chocolate unites all people 😉 There were 13 in my class (including me) and 16 in the next one so a really crowded room.
We all gathered around as Paul walked us all through the different kinds of chocolate from a 50% milk through to a 100%. Paul stressed that it is a fallacy to assume that just because it is 70% means it is great dark chocolate and we all got to see the various stages of chocolate production. He talked us through making chocolate from bean to bar and then about the difference between a chocolatier and a chocolate maker. He specified that he is not a chocolate maker but a chocolatier – he makes things with the chocolate other people make.  The highlight of the night was tempering:
As you can see, tempering involves taking chocolate and moving it around a large marble or granite slab. You can see how he moves the chocolate to get it to cool down. He can do the temperature by sight and feel so knows exactly when to add it back into the un-tempered chocolate to mix the two together and make shells or bars with it. Shells are made by filling a mould, tapping it and then pouring off the chocolate. This apparently makes a really thin shell, perfect for sea salt caramels!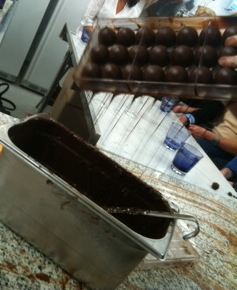 Absolutely fascinating. Tempering on a marble or granite slab is not done by most chocolatiers – they use a machine that stands about four feet tall and moves the chocolate around, keeping it as a constant temperature and constantly moving. Paul and his staff all do it on a marble slab. Just inspiring!
At the end of the night, the lucky ticket winners all got a goodie bag with a Paul A Young signed book and chocolates. I also got my hot little hands on a book which I was thrilled about because I've never had Paul's book and at long last I finally have a copy.
If you like the idea of a chocolate masterclass, Paul runs them all the time so don't think this was a one off! You can buy a ticket in store and they are run out of Soho and possibly other locations as well. Visit the shop or ring and ask about the next one or why not gift it to someone as a Christmas gift. I can't imagine a better gift than a chocolate masterclass – the full-length one includes making masses of stuff so you get a ton of chocolate to take home with you!