January 5, 2011
Flowering Red Lychee Green Tea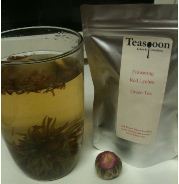 Flowering Red Lychee Green Tea – Interesting looking green tea, this has no flavour whatsoever.  It does have a slight scent but the flavour is pretty much nonexistent.
In fact, I didn't even bother finishing the mug I'd made because it was much like drinking hot water with a slightly weird aftertaste.
Don't bother buying this tea.  It is awful and a waste of money.