December 5, 2015
Easy Fragrant Spiced Orange and Cinnamon Christmas Wreath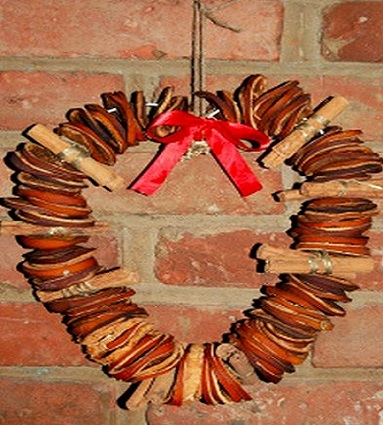 Wreaths are possibly my favourite Christmas decoration (especially when they come in chocolate 😉 ). I think they make my house look beautiful and they also bring that holiday season in so easily. I have them hanging on the door, the curtain rail, over the door – everywhere!  There are many different wreaths available to buy these days especially on my walk to work.  This year, I have been utterly stupidly ambitious and made my own is a foolish fit of enthusiasm between travelling and cleaning and working (which is the reason the blog posting is woefully behind).
This wreath is rustic and fragrant with a kind of memories of days gone by about it.  It looks like something you might have bought from Igloo flowers or maybe Villandry (both places I like to look at but never buy from).
Quite possibly the best part about this is that it isn't just for a single season but can be used year and it is something you can make with the kids (if they are older).
What you will need
2.5kg of oranges (not fancy ones – just cheap ones)
A new jar of allspice
16 short cinnamon sticks or 8 long (which you then cut in half)
A wire coat hanger
Some rafia
Non-seasonal ribbon
Roll of brown garden string
Some pliers to work the wire coat hanger with
Some plain kitchen roll (no patterns)
3 or 4 lined baking trays
1-2 thin lengths of wire about 30cms each
How To Make Your Wreath
Turn on your oven to 150C which is close to the lowest my oven goes to.
First prepare your oranges because that is going to take the most time really and is the part adults have to do.  Cut each orange into thin-ish slices so not too thick but not too thin. They have to be stable but dry out easily.
Dab each slice with kitchen paper to try and absorb as much juice as possible without fully crushing them.  This is where the kids can get involved and help you with the creation of these wreaths.
Pour some allspice into a bowl and use your fingers to rub the spice powder on the front and back of each orange slice (or if you're brave get the kids to).  Place the orange slices on the trays.  They can overlap slightly if needed but try and keep to one layer so they dry evenly.
Place oranges in the oven and go and do something else like put the tree up or clean the living room or maybe organise your clothing (ya… that's what I did).  They will take between 4-5 hours.
Once they have been in the oven for about 3 and a half hours, start to check on them every half hour or so until they are done to avoid burning the fragrance out of them.  They are darker in colour and looked dried out when they are fully done and some may want removing before others (unless you have magic perfect slicing skillz.  This makes the whole house smell like Christmas.
Unwind the coat hanger (at the top – where it's twisted) and cut off the twisted end bits then use the pliers to work the wire into a heart-like shape.
Cool the oranges completely then the start threading them onto the wire but don't pack them too too close together as the oranges will continue to shrink but need the air to do so. They can be quite close though.  Tight but not jammed. Every few slices add in a pair of short cinnamon stick which you can secure by using the rafia.  You will need to wrap the rafia around both sticks, up and under until it is secure, then tie a knot and tie to the wire.
Keep going until you have filled up the wire with orange slices and cinnamon.  Once filled, you will need to join up the end bit of wire which you can do with a bit of the extra wire and just wrap it around (in a kind of in and out, up and down pattern) and then trim the excess coat hanger. You can cover this with the rafia if you like
Now use the brown twine to create a loop for hanging and then you can finish it off with a ribbon. If you like, use different ribbons for different seasons but protect the wreath from too much moisture (so don't hang it in the kitchen or bathroom).