November 28, 2012
Easy Chocolate Truffles Recipe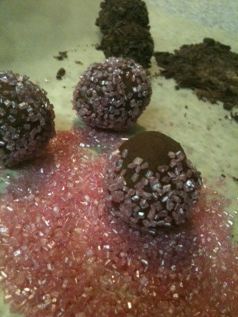 These chocolate truffles are the easiest to make as they do not involve heating anything but they do need to be kept chilled until gifting and have a very short "shelf life". I also published this over on the Good Food Channel site.
125g salted butter at room temperature
125g powdered sugar (icing sugar)
340g grated chocolate (fine grating is key to ease here)
15g (1 tbs) cocoa powder
3 tbs rum
Truffle coating of coloured sugar, chocolate shavings, nonpareils, or other fun coating
The chocolate you choose here is going to determine the quality of your truffle. The nature of this recipe means you cannot use milk chocolate or any chocolate with added oil. I recommend Valrhona, Duffy's Red Star or chocolate such as Green & Blacks 70%.
Cream butter so it is lighter in colour and easy to work with – almost fluffy.
Next add in the powdered sugar.
Now add the grated chocolate gradually to the mix. Start by folding the chocolate in and stir with a spoon before changing to hand blender.
Add the cocoa powder and the rum and mix in a bit with a spoon before giving this mix one last blast with the electric mixer.
Chill your truffle mix until the mixture firms up.
Using a melon baller or a teaspoon, scoop out balls of the size you want your truffles to be and roll into a ball shape quickly in your hand before rolling in more grated chocolate, coloured sugar, nonpareils or other coating. Don't handle too much as the mixture will melt.