May 15, 2017
Easy Breakfast Granola Muffins Recipe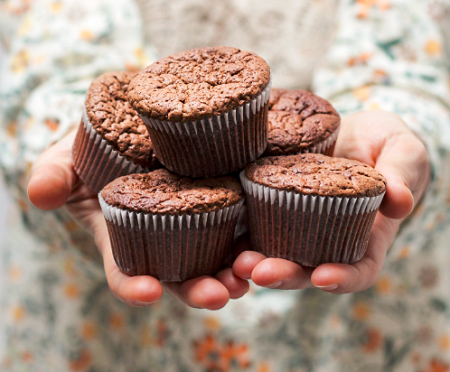 When I lived in Toronto, the one thing I used to look forward to was breakfast with my then boyfriend during the F1 race as he would go out and buy us breakfast muffins and coffee and we would sit together on the floor and watch the race on TV. I suppose these muffins are an attempt to recreate that taste a bit as they are fruit-free and ready for a dollop of butter while still warm. They do come out a bit 'wet' so they aren't dry and fluffy but I think that just adds to the appeal.
I don't recommend going back to old things usually – you can't really go backwards and be happy. Always move forward and seek happiness. I've tried going back to things I used to love only to find I no longer enjoy it. I'm happier with my husband than I ever was with that boyfriend and while we may not drink crappy coffee and eat overly fatty muffins, we do get to spend a lovely long time together enjoying each other's company while watching the F1 and we've been married for over 20 years so must be doing something right 😉
Makes 12 muffins
Ingredients:
100g granola
120ml semi-skimmed milk
115g whole wheat flour
2 tsp baking powder
1/2 tsp baking soda
2 large eggs
50g Billingdon's golden caster sugar
120ml Fage 0% Greek yogurt
60ml extra virgin olive oil
1 tsp vanilla extract
Baking Method:
Preheat the oven to 200C or 190C fan.
Line a muffin tin with paper cases but if you don't have any you can grease and flour the pan but my goodness these stick!
Soak the granola in the milk in a bowl by adding the granola to the milk in a small bowl and leave to soak for 30 minutes.
Beat together the eggs and sugar until they are fully incorporated and slightly fluffy
To the egg and sugar mix, add the oil and whip in.
Next add in the yogurt and vanilla and completely incorporate.
Add the whole wheat flour, baking soda and baking powder to the wet mix and fold until just combined.
Finally fold in the soaked granola mixture including the milk. If at this point the mixture seems too wet, add a handful of flour. For some reason sometimes it seems wetter than others so be flexible. It should be a sticky gloopy mix, not a pourable mix.
Fill baking cases to around 3/4 full or weigh around 45g of mix into each case and bake for 20-25 minutes until golden brown.
Take these out of the muffin tin to cool as otherwise they seem to sweat the oil and the case separates from the muffin.
I have a friend who then adds more yogurt to her granola muffins by dolloping it on top but really you can dress these in any way – just not with icing! ICK!
Hope you enjoyed this easy breakfast granola muffin recipe! Why not try this Healthy Breakfast Muffins with Sweet Roasted Pears and White Chocolate Chips Recipe