February 16, 2011
Domori Cacao Sambirano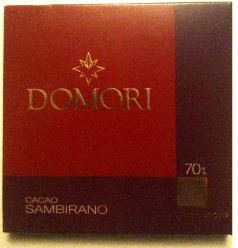 HOLY MOTHER OF WOW! What a massive flavour! The scent of the chocolate is beautiful with ripe fruit and as I put it in my mouth it EXPLODED with a slight acidity and a brilliant explosion of ripe red berries.
I cannot understand why I'm not hearing a lot more about Domori in the chocolate community after this bar.  Perhaps this is the best bar possible that they make – perhaps I have chosen the best of the best.  The refinement has made this a delectably smooth chocolate with a delicious finish.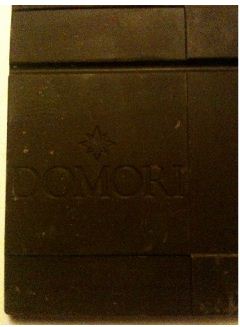 Your experience of this bar, if it is like mine, would be that this Madagascar chocolate has a distinctive scent of red berries before you even get it in your mouth.  The scent rises up and tantalises your taste buds with the promise of chocolate to come.  Placing it in your mouth, you get the distinctive pleasant sourness which is complimented with a burst in your cheeks of ripe red berries.  The flavour is aggressive but mild – there is none of the chalky dryness you get with some dark chocolate and there is none of the burnt over-roasting of other bars.
This is a delicious chocolate and one that is well worth spending extra cash on.  Absolutely.  100% YUM!