September 14, 2012
Daniel Jones Smoked Nib and Tonka Bean Chocolate Bars Reviewed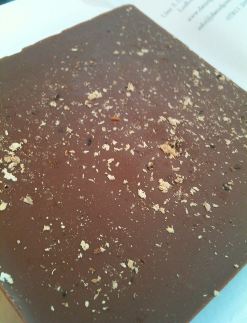 This is the last in a random series of bar reviews. So Daniel Jones is super ethical. All of the flavours in his chocolate bars are from natural sources, and when in season he sources from local farms and suppliers. Daniel works hard to liaise with local suppliers and businesses to reduce the food miles of his products where necessary, for example dairy and certain dried goods, in turn supporting the local community which is ethical awesomeness!
How did he become so awesome? Daniel trained at University College Birmingham as well as working at The Ritz London, Pom Marine Barbados, The Atrium UCB Birmingham and a range of Four Star Hotels, Two Rosette Restaurants and Gastropubs.
Being extremely creative and artistic, he also has a special qualification in Sugar, Marzipan and Chocolate, so he's able to create figurines made completely out of sugar, marzipan or chocolate. I'm seeing giant edible sculptures… I'm seeing me eating giant edible sculptures… oh wait… blogging… right… *wipes drool off chin*
So this is the last pair of bars – sad really but hey go I can buy more!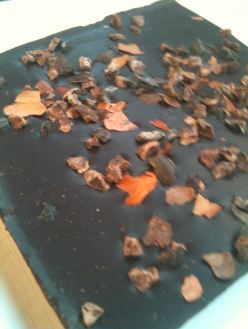 Smoked Cacao Nib  – I am no fan of smoked anything so I was worried I'd hate this. That and the shell was left in there as well as I could see so even more smoke. Usually for nibs you just get the nib and not the husk but bravely I went forth – OK – I chickened out and removed the husk… Didn't taste too smoked and the 73% chocolate really stood out for me so I found it pleasant. A shocker for me as I usually hate smoke!
Tonka – Smell is so strong it is too much. From the first bite your mouth is surrounded in the flavour of the tonka bean. Subtle but strong the milk chocolate thankfully cut through the tonka for me. I'm not a tonka bean fan but I think if you like florals in your chocolate and like tonka, you're going to be ordering this bar. Possibly by the case.
All in all these two are probably not two I'm necessarily going to be ordering for me but I'd definitely order them as gifts for people who liked these flavours!