December 3, 2010
Chocri Personalised Chocolate Bar Review – My Creations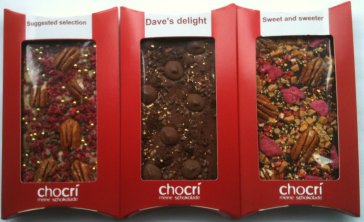 I got a certificate to try out some Chocri personalised chocolate and it turned out that I could afford to get 3 types of bar.  I decided, unlike a fellow blogger 😉 to create chocolate creations that I thought I would enjoy and that worked.  I actually spent a significant period of time calculating what the best combination would be with what chocolate and I even made one for my husband. I should be given a medal for sharing chocolate!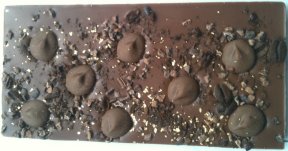 The first bar (I'm reviewing, not that I made) I called "Dave's Delight" because this was the one I gave to my husband.  Thankfully she shared some with me.  I created for him a combination of cappuccino buttons, gold flakes, coffee and I think possibly cocoa nibs in milk chocolate.  I have to say that he likes coffee and this certainly smelled strongly of coffee when we took it out of the packet.  That coffee flavour was clearly present but not overpowering despite my selections.  The milk chocolate in this combination wasn't too sweet and as such I have to say I recommend this specific combination.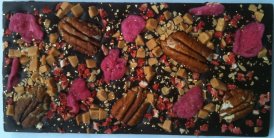 The next bar I called "Sweet and Sweeter" because despite creating it with dark chocolate, I added strawberry bits, pecans, candied rose petals and real gold flakes.  This bar wasn't as nice as the coffee bar.  The dark chocolate was quite bitter and so despite the sugary toppings the dark bitter chocolate overwhelmed the flavours making it not at all sweet.  While usually a good thing, I didn't get the flavours I was hoping for coming through.  I might go with a different mix next time and might go with stronger, bolder flavours in the dark chocolate.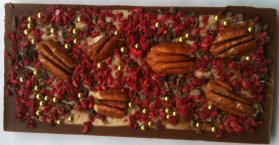 The last bar I made I called "Suggested Selection" because I went with the suggestions made at the top of the selection area.  You might not notice but each time you select something then move to the next section there are suggestions made in the top row.  This chocolate bar was a milk and white chocolate blend and the suggestions came out as cinnamon, cocoa nibs, pecans, raspberries and golden pearls.  I have to say, I feared for my teeth in more than one way!  The sour raspberries were a shock and weren't quite blended with the flavours I had selected. Perhaps the gold balls was overdoing it a bit. I didn't get too many pecans but when I did, they nicely balanced out the sweetness and cut through it a bit. Far too sweet for me but I'm sure some would like it 🙂
All in all, I think this is a great gift for a chocolate lover.  While the base chocolate used isn't Soma microbatch (and really, who can equal them and Askinosie… really…) that would actually make me more reluctant to experiment.  I'd have to specify though that either stick to the milk chocolate or when using dark chocolate, make sure to choose bold flavours.  I did make an effort to create combinations I thought word work in the different chocolate styles but coffee in milk chocolate worked best and I think it was the strong flavours, slightly bitter, with the sweet milk chocolate which was not too sweet.

***FREEBIE FRIDAY*** WIN A £15 gift certificate to make your own bars!  Leave a comment here about what flavour combination you'd try, and/or do the same on Facebook and/or tweet "If I won @chocri_uk from @mostlyaboutchoc like this http://bit.ly/ftN5BZ I'd make …" and fill in what you might choose. Winner will be chosen around mid-day Sunday while I recover from jetlag :-S
***WINNER*** Congratulations to LondonSheSaid who has won! Chocri will need your details!