December 5, 2014
The Chocolate Festival Returns to the Business Design Centre December 12 – 14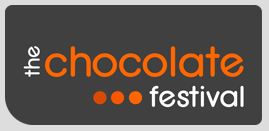 It is the final push towards Christmas and you're stuck for something to buy the chocolate lover in your life – or you have to buy for some unexpected dinner parties and the kids – or really you just need a treat. Well, The Chocolate Festival has you covered.
Coming a mere 2 weeks before Christmas in that magical time when you can, in fact, buy fresh truffles and they will *just* make it if you store them in the utility room or somewhere cool but not in the fridge. This is the perfect time to have the usual December installment of The Chocolate Festival which this year boasts a VIP evening which I think is the absolutely best value.
The Chocolate Festival has been going for a number of years now. Traditionally outside at the Southbank, the festival organiser decided to take it indoors to make it a better shopping experience. While The Business Design Centre isn't as easy to get to by public transport, it is way easier by can and being inside means that no matter the weather you can peruse the delights of Damian Allsop, Demarquette, Hans Sloane and others in comfort, get all your shopping and only brave the elements once you've done a few classes and shopped 'til you dropped down in an exhausted heap.
The big add this year is the VIP evening. Now, normal admission is £7 in advance and £8 on the door which isn't too bad as there are chocolatiers here that you cannot easily buy and so there is a real value to attending. That is a standard ticket and it isn't bad value as there are samples and whatnot you can try. The big ticket is the £150 VIP evening. It may be expensive but it is an AMAZING experience!
The VIP ticket is an opportunity to be treated like press in a sense. It is a closed, after-hours event where you get the ultimate goodie bag including Edd Kimber's new book signed by him and he'll personalise it on the evening. He'll also be doing a demo. Then you'll get to do a wine/port/booze and chocolate tasting with Janet Parkinson. You'll have the chance to browse all the stalls and then come back and bring 2 friends on one of the other days of the show. Normally members of the public are not able to access this kind of evening but the organisers decided to release a small number of VIP tickets. Obviously £150 isn't for everyone but that's also the idea 😉
I always love going to the Chocolate Festival and usually go more than once and buy lots, attend the chocolate theatre and enjoy myself. Being inside is just an added bonus as it means I don't freeze while looking around the stalls. If you, like me are a chocaholic then either a normal ticket or a VIP evening ticket will be what you want. If you hate chocolate I'm not entirely clear how you found your way here but I have posts on COFFEE and BOOZE so you might want to check those out 😉