August 19, 2013
Charbonnel Launch Diamond Jubilee Chocolate Collection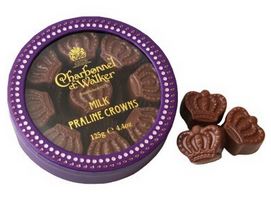 To celebrate the 60th anniversary of Her Majesty The Queen's coronation, Charbonnel et Walker (purveyors of fine English chocolates) are delighted to announce a limited edition box in collaboration with Swarovski.
Their Milk Praline Crowns have undergone a makeover, and the box they come in will now be studded with two sparkling rows of Swarovski crystal, in amethyst and light rose. This unique and regal looking box is sure to be treasured long after the chocolates have been enjoyed.
The Milk Praline Crowns are made with milk chocolates, blended with hazelnuts, walnuts and coffee in a milk chocolate shell. Like all Charbonnel chocolates and truffles, the signature milk and dark chocolates are handmade in England to an original recipe, using the finest ingredients.
Charbonnel et Walker have been established as Britain's Master Chocolatier's since 1875. In that year, Edward VII (then Prince of Wales) encouraged Mme. Charbonnel to leave the chocolate house of Maison Boissier in Paris to join Mrs Walker to establish a fine confectionery house in London. Stores can be found at Old Bond Street, Canary Wharf, London Liverpool Street, and Leeds.
This beautiful box is available for a limited time only from 12th July 2013, at the Coronation Festival, online at www.charbonnel.co.uk and in all Charbonnel et Walker stores as well as selected retailers in the UK.
I know that everyone seems to love Charbonnel because of their royal warrent which brings that royal touch to the chocolate. I do know that the Queen does have their chocolates around the residence she is in. This new selection just adds a bit of fun to the mix and gives you an amazing kepsake after the choccies are all gone. These aren't my favourites but really you're getting this for the box 😉