November 30, 2013
A Carluccios Christmas Shopping Treat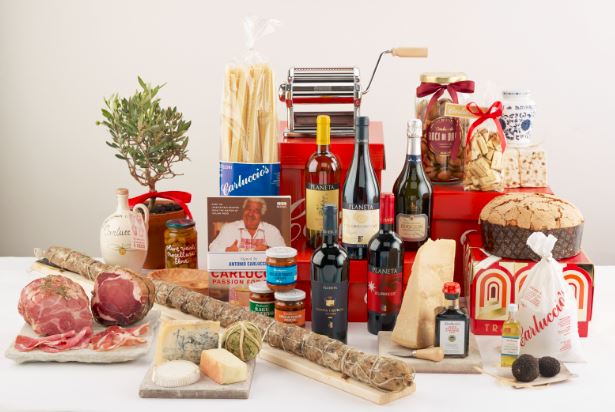 If mountains of tinsel, nodding blow-up Santas and singing Christmas cards turn you on, then Bologna is not the place for you. Christmas in Bologna isn't for show. For the city's bakers, grocers, confectioners and chocolate makers, it's business as usual because the Bolognesi take food seriously all year round. The people there cherish it, take great pride in it and enjoy it just as they do at Carluccio's.
Reflected in the design of the packaging, the 2013 Christmas collection takes its inspiration from this city of warm red colours, porticos and iconic towers, but there's also the yummy content. This is food to be enjoyed and savoured. Featuring gift boxes, cakes, biscuits, sweets and chocolates, each item has been chosen from artisan Italian producers for being the finest it can be; from cakes made to an age-old recipe to chocolate coated figs produced by one Calabrian family over three generations. I always get husband the chocolate orange segments steeped in arcohol and covered in chocolate.
There is the most amazing Ultimate Christmas Hamper from Italia (£600) – this hamper is available exclusively online from 12th December so you can't just go into a shop and buy it and it features an abundance of Italian treats. Highly prized favourites like Salame La Gabbianella (3.5kg) from Pedrazzoli and Parmigiano Reggiano Vacche Rosse (500g), a limited-production cheese aged for over 24 months. There's even an olive plant, Imperia Italian pasta machine and a signed copy of Antonio Carluccio's Passion for Pasta cookbook. Other products include La Gonzaghetta – a whole slow roasted ham, fig ball, white truffle oil, fresh black truffle, Amarena Fabbri cherries, venison ragu and a selection of Planeta wines. I really loved those wines when I tried them. I'm so envious because someone is going to get this and I envy them!
On the 5th December, from 6.30pm, Carluccio's across the UK will be the ultimate hub of festive cheer as shoppers treat themselves to a 10% discount on the entire Christmas range. I stock up on chocolate panetonne and other treats (but this year I'll be out of town sadly 🙁 ) You can shop while enjoying a complimentary winter-warming glass of vino cotto (traditional mulled wine) and piccolo assaggi (festive canapés).
I received a jar of cookies from them at their Christmas preview and got to sample a lot of the delights. I always enjoy the sweet wine with biscotti but sadly husband never got the hint 😉