April 7, 2014
British Classics Reimagined by Patisserie des Reves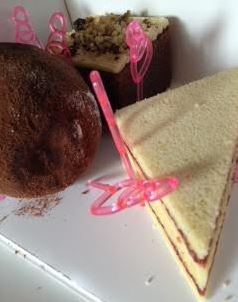 The new kid on the patisserie block is an old name in Paris – Patisserie des Reves. They opened recently in London not far from Rococo on Marlebone High Street and apparently at times have queues out the door. Blissfully I was unaware of this when I went and because it was so close to closing I was able to sneak in and observe for awhile.
The first thing I noticed was the bilingual service. When I had visited before there was a different standard of service (shall I say) and this time it was much friendlier. The staff were all polite and smiling despite the late hour and they were helping a number of people well, including a brusque Englishman who waltzed in as though he was the king and treated the staff less well than any member of the royalty would :-/
With all of that happening around me, I discretely asked for my contact who came out from the back. She produced a box with 3 re-imagined British classics and one small bag. Scones, she explained, were not refrigerated as the pastries are. In addition to the patisserie, I was given some treacle tart in a jar and a bottle of hot (or cold) chocolate to drink apparently just like the hot chocolate in Paris.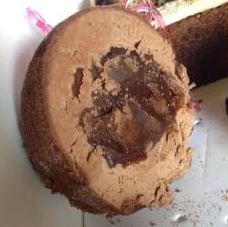 Limonita –  of course the first thing I tucked in to was the GIANT BALL OF CHOCOLATE. This is hard to describe. The centre was meringue and sauce and then it is thickly covered with chocolate mousse, finished in a dusting of cocoa powder. It was heavenly and only available until about May they said which it switches to a seasonal lemon if I understood her correctly. It sounds divine but I'm in love with the chocolate.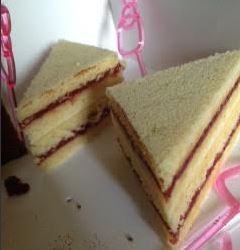 Victoria Sponge – I'm torn – I think this is absolutely cute and I love how it looks like an actual sandwich but I'm not sure I like it. Husband does and diabetic that he is, he ate half of it. I feel that the cake layers were slightly too dense and it detracted from the mouth feel. Flavours were absolutely masterfully balanced and as I said, the cake is cute as a button. I'd suggest buying it and trying it if you like Victoria sponge – it's also a great conversation starter at a dinner party.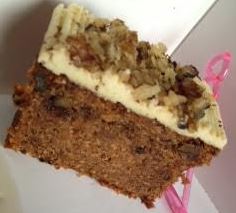 Carrot Cake – I'm not a fan of carrot cake but this was super moist and flavourful. Without overdoing it on the spice, the carrot cake balanced flavour and texture, with a superb mouth feel and dense moist texture. Sadly it did not convert me into a carrot cake loving person but I can appreciate the masterfulness of the execution of the carrot cake art.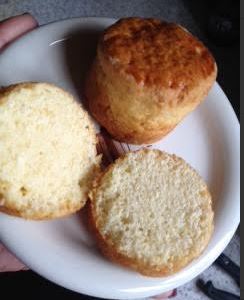 Scones – These were surprising. Light and yet dense, they tasted lighter than I would have expected and almost approaching a brioche – as though egg had been added to the recipe. They were absolutely delicious and unlike any scone I've had combining that dense texture with just a hint of lightness beyond the norm. Tall, but not much taller than a regular scone, these were absolutely amazing – even the next day! There were no particular outstanding flavours with this but you wouldn't have expected there to be.
Treacle Tart in a Jar – basically what they've done is take the best part of the treacle tart – the filling – and stuff it in a jar. Can't argue with that!
Hot Chocolate – Now, I was not a fan of the hot chocolate I had in Paris but I'm not a praline fan. I was therefore hesitant to try this drink, remembering what it had been like but I needn't have worried. The nuttiness of the praline has been softened, leaving the chocolate to stand on its own.
Overall I enjoyed the re-imagined British classics, created exclusively for the UK market (well, really just for London!) however I also loved the St Honore I had tried on a previous visit. They will be opening a sit-down café soon somewhere in London I think – or they are adding tables and chairs to this small location – but until that happens, you'll have to get your patisserie to go.
Patisserie des Reves is located in London on Marleybone High St. The website wasn't easy for me to use so here's a GOOGLE MAP location.