January 1, 2013
Bacardi Oakheart & Death By Chocolate Cocktail Recipe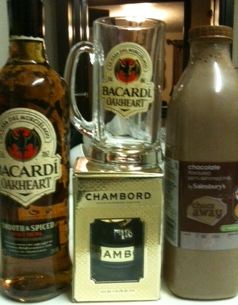 With all the holiday parties and gatherings, there are a lot of cocktail recipe searches happening but the problem is, some people then don't take the time to search out the right spirit for the job. While I love slow gin, it isn't great in a G & T and certainly wouldn't be right in a dry martini. I was sent this bottle with the glass but bought the Chambord myself 😉
Bacardi Oakheart is actually more than just a flavoured rum. Bacardí's Master-Distillers use a unique blending process that begins with the mellowing of rums in charred, American, white oak barrels to give the rum base an oaky flavour. Once they have created this base, the Master Blenders add a range of flavours, including cinnamon, nutmeg and honey before filtering the liquid. This has made a rum what has an interesting nose and different flavour. It isn't sweeter but there is a distinct flavour to the rum that I enjoy more than others on the market. I was a big fan of certain other famous brands but this seemed, to me, smoother and more palatable.
Perhaps it has been awhile but this spiced rum is deliciously different and I liked experimenting with it. In fact, it was a favourite neat at a recent gathering I had. I'll bet it won a few converts! I was sent 3 recipes with the bottle but only one really appealed and I did adjust it slightly to my taste.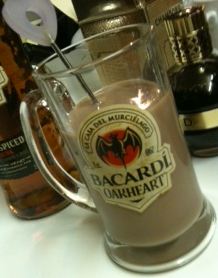 Death by Chocolate Cocktail Recipe
50mls Bacardi Oakheart
75mls chocolate milk
12.5mls Chambord
Simply add the Chambord and Oakheart to the glass, stir a bit then add the chocolate milk. Give it a good old stir and enjoy! I used a mini whisk 😉
This cocktail is like a chocolate raspberry ganache. There is a hint of the raspberry in the chocolate but it isn't too strong. The original recipe called for only 50mls of chocolate milk but it was a bit too strong for me. Adding the 25mls of chocolate milk really helped but you can play around with it. The glass has a double helping.
Make something different for your party!