March 17, 2011
Artisan du Chocolat Selection Box Review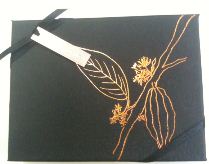 Having had the chance to grab some Artisan du Chocolat chocolates, I thought I'd review a little selection of them. This is a small box with gives a bit of everything and I chose my selection so that I could try a wide range of flavoured chocolates.
Pearls – these were cute but just balls of chocolate. I love how they have got the edible glitter but they weren't stand up and wow me.
O Mint – a thin disk of a green mint ganache. The chocolate here cannot overpower the green fresh mint flavour though it does its darnedest to. I think the O chocolate disks are so heavy on the chocolate as to make it difficult to discern all but the strongest of flavours.
O Caramel – a thin disk of chocolate with a thin layer of caramel. Here the chocolate is really the dominant flavour with the caramel adding an interesting side flavour. It is hard to get much of the caramel flavour as the chocolate itself dominates the palette. Caramel makes it slide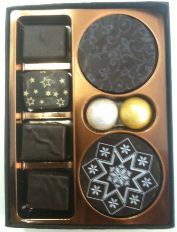 Sea Salted Caramel – what I didn't expect here was an almost fudge-like interior. This is very sweet but unlike what you might expect, not sickly sweet. The soft fudge interior of sea salted caramel is only slightly chewy, mainly fudgy, without an overpowering flavour of salt.
Jasmine tea – I've been spoilt by Matcha Chocolat's jasmine though I did quite enjoy the milk chocolate ganache used here over the white chocolate favoured by Matcha. Still, I missed the floral overtones which come to the fore with Matcha and here the jasmine is muted. However this is perfect for anyone who finds Matcha's too strong or prefer more of a hint rather than the full flavour
Earl Grey tea – this is a gentle tea flavour and so not as aggressive or strong as other chocolate flavours. Earl Grey tea has fans and foes and I think if you aren't sure if you like it, this is a great chocolate to try as the flavour is understated.
Coffee & Star Anise – an aggressive flavour which really pwns your mouth. The distinct star anise flavour is in there with a strong coffee flavour in a grainy ganache that taste quite sweet. This is only for those who like both flavours!
All in all it was a great selection and I have great fun choosing and eating them. I'm not a huge fan of the O's at the end though and I think for me I'd rather get more squares and some sea salt caramels or something but as a taster selection it was a nice example of the chocolate range at Artisan du Chocolat.