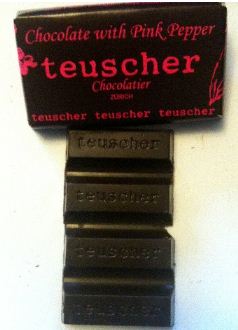 The scent of pink pepper absolutely rises up to greet you from this chocolate as soon as you open the wrapper.
Taking a bite you can absolutely taste the pepper in the chocolate and it is quite different.  It is intense and peppery but without assaulting your taste bugs.  It is always fun to try something as different as this but without a good supporting chocolate I think the complexity possible with adding pink peppercorns to the chocolate.
This is a different, interesting, fun chocolate but probably not one I'd choose for myself again. Errrr… yuck.
Subscribe
This Site Uses Cookies for Analytics
If you don't want to be analyticsalised with a cookie from Google, best pop off to another site.
Check out my Recipes, Reviews and more!
Links on this Blog
All links on this blog are editorially given. Do not contact me for link exchanges. Reviews do not guarantee links. I do not add links to articles already written unless I want to, and any requests to do so will be refused (and may result in the review being withdrawn). I reserve the right to remove links from reviews at any time for any reason including but not limited to whim. I am not your link bitch, don't try and treat me as such.



#nofilter📷 because this #chocolate🍫 is just awesome! Some of the best #milkchocolate (and white and dark) on the planet!
.
Flavour-wise this is an exceptional chocolate - made from some of the best beans from #madagascar🇲🇬 this chocolate is grown, fermented, dried, roasted, conched, and tempered into some of the finest #awardwinning chocolate on the planet before being packaged and shipped from Madagascar to us. That means all the added value bits happen in the country of origin meaning it's about as ethical as you can get!
.
This makes this chocolate better than Fairtrade, better than fairly traded - it's totally ethicality awesome and it's tasty.
.
I'm always educating people about slavery and chocolate but I'd also like to remind people about the awesomeness that exists out there.
.
At £5.99 a bar on #amazonprime it's really worth buying lots. My current favourites are the 70% ORGANIC #darkchocolate bar and the 50% milk chocolate.
.
To properly taste #beantobar chocolate of any kind, take a small (5g or so) piece and place it in your mouth. Don't chew or suck - just let it melt normally and as it melts exhale through your nose. You'll find the taste of the chocolate lasts and you feel satisfied longer. That way your bar lasts longer and voila - best bargain ever plus fewer calories consumed.
.
#chocolatetasting in the proper way will help with your #weightlossplan through #portioncontrol and leaving you satisfied for longer.
.
Keep to your #newyearsresolutions one step at a time without sacrificing #deliciouschocolate at all!
.
#cacaolove #chocolatelovers #ilovechocolate #crazyaboutchocolate #cocoalove #mostlyaboutchoc #chocolatmadagascar #worldsbestchocolate #bestchocolate #🍫 #chocolatebar #darkchocolatelover #lovechocolat #healthyhappy http://bit.ly/2RToEp4




Nothing can compare to @konditor_and_cook to start the week back to work after time off. They rescued me! I love the balance of flavours but these really are my favourites.
.
In about 3 days I'll need a dozen to make it through to the end of Friday!
.
What is rescuing you today - the first day back to a full, long, 5-day week?
.
#foodideas #foodinspiration #simplefood #simplefoods #epicurious #foodblog #foodbloggers #londonfoodie #foodinspiration #foodinstagram #chocolatelover #chocaholic #darkchocolate #chocolatelovers #instachoco #chocolateaddict #chocolateporn #chocolateheaven #ilovechocolate #chocolatecupcakes #minicupcakes #choccupcakes #chocolateraspberry #konditorandcook #ilovecupcakes #cupcakelove #cupcakelovers http://bit.ly/2RARxpV
badges
Grammar Warning: I am clearly aware that my grammar is sub par. Please excuse any typos or miss-spelling of words you may come across when reading this blog. There is no need to write or notify me. Thank You Kindly.