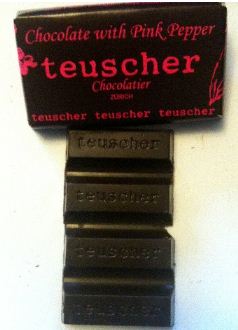 The scent of pink pepper absolutely rises up to greet you from this chocolate as soon as you open the wrapper.
Taking a bite you can absolutely taste the pepper in the chocolate and it is quite different.  It is intense and peppery but without assaulting your taste bugs.  It is always fun to try something as different as this but without a good supporting chocolate I think the complexity possible with adding pink peppercorns to the chocolate.
This is a different, interesting, fun chocolate but probably not one I'd choose for myself again. Errrr… yuck.
Subscribe
This Site Uses Cookies for Analytics
If you don't want to be analyticsalised with a cookie from Google, best pop off to another site.
Check out my Recipes, Reviews and more!
Links on this Blog
All links on this blog are editorially given. Do not contact me for link exchanges. Reviews do not guarantee links. I do not add links to articles already written unless I want to, and any requests to do so will be refused (and may result in the review being withdrawn). I reserve the right to remove links from reviews at any time for any reason including but not limited to whim. I am not your link bitch, don't try and treat me as such.



At the @aldiuk Easter goodies preview I saw and tasted some amazing chocolate.
🍫
Some of my favourites were this amazing birdcage chocolate with an #Easteregg inside it with chocolate eggs inside the Easter egg. It was tasty and beautiful and at only £14.99 for 750g of chocolate in such an amazing stunning, handmade piece, it was worth it!
🍫
The other egg is actually a single origin cocoa pod from Peruvian chocolate in the #moserroth range. It is new and at £4.99 for 150g I thought it was the best tasting #chocolateegg of the day. You can really taste the difference in the chocolate.
🍫
Also on show were a stunning #rubychocolate hollow diamond surrounded by chocolate gemstones, a beautiful #moserrothchocolate egg and a really fun and innovative hollow chocolate hot cross bun with candied fruit!
🍫
I do think the most popular will be the stunning flavour filled egg chocolates. I tried a maple caramel and knew what I was buying myself!
🍫
What are you buying yourself this Easter?
🍫
#easterchocolate #chocolateeastereggs #hotcrossbuns #chocolate🍫 #chocolateheaven #chocoholics #peruvianchocolate #ilovechocolate #iloveeaster #loveeaster #🍫🍫🍫 #🍫 #chocoholic🍫 #aldi #aldifinds #aldilove #aldigram #aldiuk https://ift.tt/2tRksbJ




Brand new from @valrhonauk comes this amazing chocolate from Belize with a fun name. 🍫
Tulakalum means "together" in Mayan dialect, and it was only thanks to collaborative efforts between @valrhonafrance 's partner-producer Maya Mountain and their sourcing team that they were able to relaunch this exceptionally rare Belizean cocoa variety. So it was a real coming together of effort that resulted in this rare cocoa blend.
🍫
At first, the sharp tartness blends with the sweetness of the spices. Bitter, with only a hint of sweetness, Tulakalum surprises with sumptuous ripe fruit notes. I enjoyed the surprising flavour notes and the long evolution in my mouth. I'm sure everyone will have a different experience and it will suit so many different desserts. Forget just making a chocolate - make patisserie and get super creative.
🍫
Valrhona flavour experts got to work so that we could enjoy this chocolate just as nature intended it. Tulakalum has a cocoa content of 75% and does not contain any soya lecithin. Its high fat content comes from its cocoa and offers an ideal texture for all kinds of pastry-making and chocolatier's applications, including coating.
🍫
This is some of the best of Belizean cocoa in a chocolate with a high cocoa content and a unique sensory profile.
🍫
#chocolatelover #chocaholic #darkchocolate #chocolatelovers #instachoco #chocolateaddict #ilovechocolate #chocolateporn #chocolateheaven #chocolate🍫 #🍫🍫🍫 #🍫 #🍫party #🍫🍫🍫🍫🍫🍫🍫🍫🍫🍫 https://ift.tt/2T60GHV
badges
Grammar Warning: I am clearly aware that my grammar is sub par. Please excuse any typos or miss-spelling of words you may come across when reading this blog. There is no need to write or notify me. Thank You Kindly.