Tag Archives:
pralus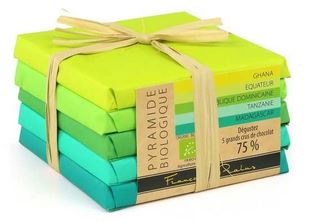 François Pralus is a Master Chocolatier and his approach is exceptional because Pralus is one of the few companies in France to make their own chocolate from the bean to the bar. Today, there are nearly 100 tons of chocolate ...
Facebook
Subscribe
This Site Uses Cookies for Analytics
If you don't want to be analyticsalised with a cookie from Google, best pop off to another site.
Check out my Recipes, Reviews and more!
Links on this Blog
All links on this blog are editorially given. Do not contact me for link exchanges. Reviews do not guarantee links. I do not add links to articles already written unless I want to, and any requests to do so will be refused (and may result in the review being withdrawn). I reserve the right to remove links from reviews at any time for any reason including but not limited to whim. I am not your link bitch, don't try and treat me as such.



What are ya doing tonight/this weekend? Well now you're going to the Barbados Terrace by Mount Gay Rum! Open to the 26th of August, the terrace will bring a taste of the Caribbean to London by serving up delicious rum cocktails, Barbadian inspired street food dishes and acoustic music sessions from Roundhouse's resident artists.
.
The Barbados Terrace offers a taste of Barbadian spirit and culture with games such as Dominoes and Road tennis, classic rum cocktails, and delicious finger food with a Caribbean twist. The cocktail menu will include punch bowls for sharing, new summer cocktail creations, as well as Mount Gay's signature serve, the Black Storm(50ml of Mount Gay Black Barrel, 125ml of Ginger Ale, garnished with an orange wedge), the perfect refreshment for these long, hot summer days.
.
It's going to be a long hot summer so it's the perfect place to cool down!
.
#mountgayrum #barbadosterrace #blackstorm #carribean #carribeanfood #carribeanrum #rumcocktail #rum #rum🍹 #barbados🇧🇧 https://ift.tt/2Loxrfz




This stunning presentation piece from @hotelchocolat is new for Christmas 2018. In stores closer to Christmas this is probably the best value for money piece I've seen this #christmasinjuly so far. Tons of different chocolate in a beautiful array of colours and flavours I think I might be investing in one of these myself this year!
I always recommend #hotelchocolat and this just takes to to a whole new level 💕🍫💕 #chocolate🍫 #ilovechocolate #chocolatelover #🍫 #🍫🍫 #chocolaterie #chocolatelove #chocolateaddict #chocolateporn #foodporn #foodblog #foodbloggers #londonfoodie #foodinspiration #foodinstagram #chocaholic #darkchocolate #instachoco #chocolateaddict #chocolateheaven https://ift.tt/2KZMGME
badges
Grammar Warning: I am clearly aware that my grammar is sub par. Please excuse any typos or miss-spelling of words you may come across when reading this blog. There is no need to write or notify me. Thank You Kindly.