Tag Archives:
New Launch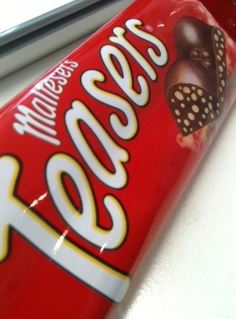 At the holidays, when you get those big tubs of miniatures, I used to leave the "Teasers" behind. I was all 'if it isn't a real Malteeser, why would I want it?' and so it languished with the Bounty and ...
Facebook
Subscribe
This Site Uses Cookies for Analytics
If you don't want to be analyticsalised with a cookie from Google, best pop off to another site.
Check out my Recipes, Reviews and more!
Links on this Blog
All links on this blog are editorially given. Do not contact me for link exchanges. Reviews do not guarantee links. I do not add links to articles already written unless I want to, and any requests to do so will be refused (and may result in the review being withdrawn). I reserve the right to remove links from reviews at any time for any reason including but not limited to whim. I am not your link bitch, don't try and treat me as such.



This stunning presentation piece from @hotelchocolat is new for Christmas 2018. In stores closer to Christmas this is probably the best value for money piece I've seen this #christmasinjuly so far. Tons of different chocolate in a beautiful array of colours and flavours I think I might be investing in one of these myself this year!
I always recommend #hotelchocolat and this just takes to to a whole new level 💕🍫💕 #chocolate🍫 #ilovechocolate #chocolatelover #🍫 #🍫🍫 #chocolaterie #chocolatelove #chocolateaddict #chocolateporn #foodporn #foodblog #foodbloggers #londonfoodie #foodinspiration #foodinstagram #chocaholic #darkchocolate #instachoco #chocolateaddict #chocolateheaven https://ift.tt/2KZMGME




It's not just #chocolate🍫 that I love - it's also #fudge! This absolutely delicious #clottedcreamfudge from the West Country is part of the #coopxmas range for 2018. I dearly wish we'd been gifted some but sadly I'll have to buy my own. The #ChristmasInJuly press day was fabulous with lots of passionate people developing amazing recipes with flair and the highest ethical standards that I'm aware of. They don't just wonder about what we'd like - they go out and try everything and develop the best possible versions of what they see us enjoying.

Want deliciously #ethicalfood that's #locallysourced and often #fairtrade then shop at @coopukfood .
.
.
#creamfudge #bestfudge #ilovefudge #coppermug #copperhomewares #westcountry #westcountryfudge #devonfudge #cornishfudge https://ift.tt/2zezIoG
badges
Grammar Warning: I am clearly aware that my grammar is sub par. Please excuse any typos or miss-spelling of words you may come across when reading this blog. There is no need to write or notify me. Thank You Kindly.