Tag Archives:
New Launch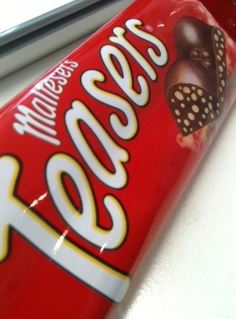 At the holidays, when you get those big tubs of miniatures, I used to leave the "Teasers" behind. I was all 'if it isn't a real Malteeser, why would I want it?' and so it languished with the Bounty and ...
Facebook
Subscribe
Check out my Recipes, Reviews and more!
Links on this Blog
All links on this blog are editorially given. Do not contact me for link exchanges. Reviews do not guarantee links. I do not add links to articles already written unless I want to, and any requests to do so will be refused (and may result in the review being withdrawn). I reserve the right to remove links from reviews at any time for any reason including but not limited to whim. I am not your link bitch, don't try and treat me as such.
Grammar Warning: I am clearly aware that my grammar is sub par. Please excuse any typos or miss-spelling of words you may come across when reading this blog. There is no need to write or notify me. Thank You Kindly.



You should #discovergrenada if you are a #chocolate fan - you are #freetowonder at the pure foods here like this #cacaopod from #belmontestate where we learned about #beantobar chocolate, growing new trees and discovered the beauty of the land
.
.
#cocoapods #grenada #grenadalife #grenada🇬🇩 #grenada2017 #cacaolove #cocoalover #visitgrenada #grenadachoclatefestival #lovechocolates #puregrenada #healthyfoods #organicchocolate #organicfarming http://ift.tt/2pE2F87




#cacaopod at #grenadachocolatefestival which is happening right now at @truebluebayresort - come for the #cacaolove and stay for the #grenadalife
.
.
.
#puregrenada #visitgrenada #freetowonder #grenada2017 #grenada #grenada🇬🇩 #carribeansea #caribbeanfood #carribeanlife #carribeanchocolate #travelbloggers #travellove #travelporn #chocolatelove http://ift.tt/2qf9cVJ
This Site Uses Cookies for Analytics
If you don't want to be analyticsalised with a cookie from Google, best pop off to another site.