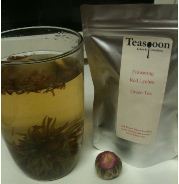 Flowering Red Lychee Green Tea – Interesting looking green tea, this has no flavour whatsoever.  It does have a slight scent but the flavour is pretty much nonexistent.
In fact, I didn't even bother finishing the mug I'd made because it was much like drinking hot water with a slightly weird aftertaste.
Don't bother buying this tea.  It is awful and a waste of money.
Facebook
Subscribe
Check out my Recipes, Reviews and more!
Links on this Blog
All links on this blog are editorially given. Do not contact me for link exchanges. Reviews do not guarantee links. I do not add links to articles already written unless I want to, and any requests to do so will be refused (and may result in the review being withdrawn). I reserve the right to remove links from reviews at any time for any reason including but not limited to whim. I am not your link bitch, don't try and treat me as such.
Grammar Warning: I am clearly aware that my grammar is sub par. Please excuse any typos or miss-spelling of words you may come across when reading this blog. There is no need to write or notify me. Thank You Kindly.



I made some #baileys #fudge and it is lush! Easy 4 ingredient fudge you can make quickly and enjoy for days. I'll blog it soon but #spoileralert it tastes strongly of #baileysirishcream and is perfect with a cup of #coffee☕
For this recipe and other delicious dessert recipes using #chocolate🍫 #maplesyrup or really anything sweet, check out my blog MostlyAboutChocolate.com .
.
.
#recipeidea #recipeblog #fudgerecipe #baileyscream #baileysrecipes #baileysandcoffee #recipecomingsoon #recipeideas #recipeshare http://ift.tt/2wgxgIH




I've been baking again and late at night and with #alcohol #tiamaria #coffeeliqueur so no styling, just eating and drinking. I used 60mL of #coffee #liqueur to make 10 cupcakes so not too boozy. I had an espresso with a shot of Tia Maria too while eating a cupcake or two. I leave them naked as we have #espresso spread plus #saltedcaramel sauce so who needs icing? Right - back to the #boozy #latte☕️ .
.
.
#coffeelove #espressolover #cupcakestagram #coffee☕ #espressocup #cupcakeporn #boozycupcakes #boozycoffee #boozybaking http://ift.tt/2udEElY
This Site Uses Cookies for Analytics
If you don't want to be analyticsalised with a cookie from Google, best pop off to another site.