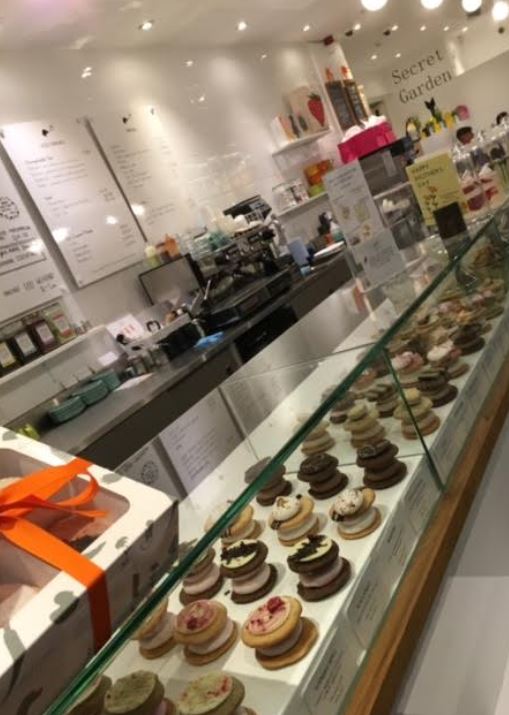 It's Soho and so you expect something a little different but a place where the core principle is to REDUCE the amount of sugar in cakes, frostings and related sweet treats isn't one of them.
Yes, I wrote that in capital letters because I don't think you'll believe it. A cake shop that is working to create the perfect recipe that is lower in sugar not by replacing it with other sugars like fruits and honey but by simply using less and adjusting recipes so it works. And it does work and you won't know you're eating les sugar.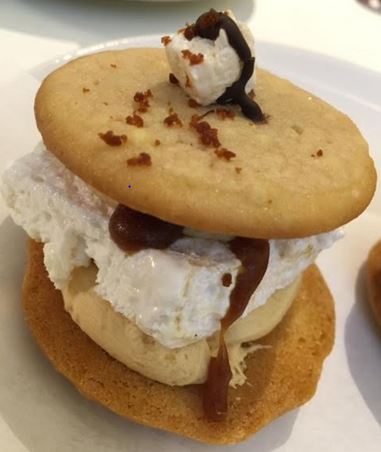 Cutter and Squidge are a sister duo who come from a chefing family. Having been admonished not to go into food, they did what any sister duo would – they decided to do it anyway. They, of course, did try their hands at other careers and in fact one of the pair is still a lawyer on the side but the cake part of the business is the main focus. Yes, I said "lawyer on the side" and loved it 😉
The unique approach the sisters take has baffled other chefs (including one celebrity chef) and yet their following has only grown. While they aren't marketing themselves strictly as reduced sugar or diet or any such gimmicky tactics, it is core to what they do – and I loved it.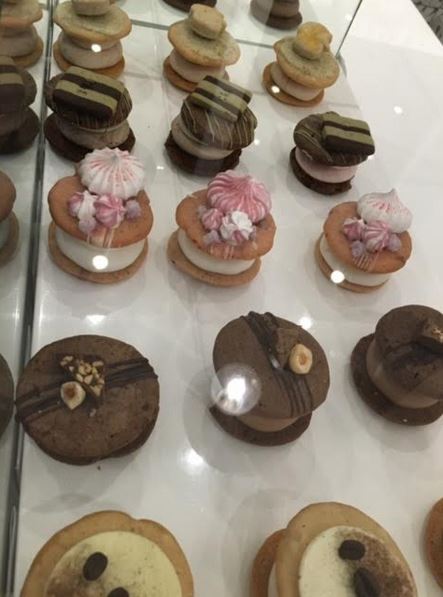 I was treated to an interview with the owners of the brand who work tirelessly on recipe development with reduced refined sugar and innovative taste – with mixed results. Sometimes weeks are spent trying to get a recipe right only for it to have to be completely discarded. Other times something just clicks and the recipe flies off the shelf.
Cutter & Squidge's loyal following often put pressure on the duo to keep seasonal recipes but they are committed to fresh ingredients, ethical sourcing and quality. They don't sacrifice quality in anything they do and it shows. From Biskies to cake, everything is delightful.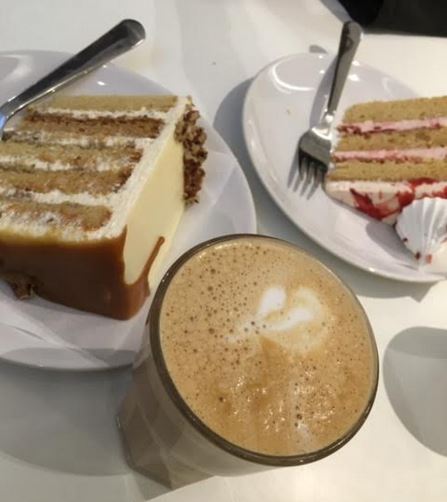 I tried one of the layer cakes and even with the reduced sugar frosting (nothing added – just sugar taken away) it was still perfectly sweet and delightful. I always go for salted caramel and I was rewarded with a feast for the eyes and the palate. Deliciously moist sponge, sweet frosting and dollops of salted caramel. The slice was huge as well so portion sizes are generous.
Probably my favourite – though still huge – were the biskies. They are two large fluffy cookies with a icing and extra filling making it a deliciously moreish cookie sandwich. I tried tiramisu, salted caramel, a fruit inspired one and a nuts inspired one and they were all brilliantly executed. The tops of the biskies are decorated beautifully and the taste is perfectly balanced without being too sweet given the inclusion of icing. In fact the salted caramel was absolutely amazing and my diabetic husband was able to enjoy the tiramisu.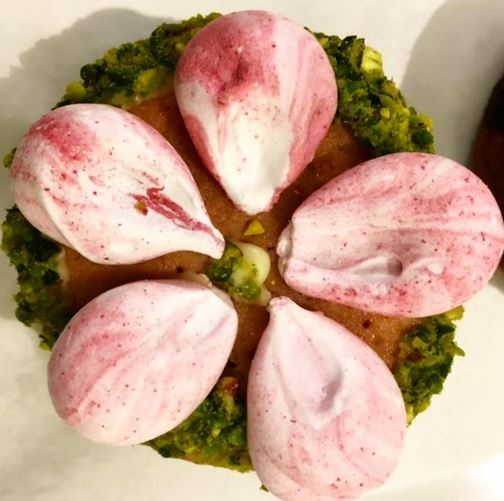 They also have a line of exquisite teas and ethically sourced coffee. They are very particular when it comes to what they serve in the shop and it shows. They aren't just innovating in the kitchen and ethically coursing their ingredients – they are careful about every part of their business.
From their shop in Soho, Cutter & Squidge are both doing something innovative and weirdly healthy. They want us to get hooked on treats with a lower sugar content naturally, eat with awareness, choose quality and never compromise. I couldn't agree more. You can visit the sisters' shop in Soho any day and taste their creations with your eyes as well as your mouth.
Subscribe
This Site Uses Cookies for Analytics
If you don't want to be analyticsalised with a cookie from Google, best pop off to another site.
Check out my Recipes, Reviews and more!
Links on this Blog
All links on this blog are editorially given. Do not contact me for link exchanges. Reviews do not guarantee links. I do not add links to articles already written unless I want to, and any requests to do so will be refused (and may result in the review being withdrawn). I reserve the right to remove links from reviews at any time for any reason including but not limited to whim. I am not your link bitch, don't try and treat me as such.



It is so exciting !!! 🎉 @jagermeisteruk #JagerLCW is shaking up London Cocktail Week with a selection of tasty cocktails including; Jägermeister Mule, Manifest Hunters Tea, Jägermeister Sour and Jungle Hunt.
.
They have this amazing pop-up bar in Brick lane but I know not everyone can make it into London so why not make your own pop-up bar experience by making these cocktails at home or for your next party? Come on - you know you want to! Or pop on down Sunday for the full experience and hey - KEYCHAIN!
.
Want the full cocktail list? I'll be blogging them soon!
.
Jägermeister Sour
What you'll need (per drink): 40ml Ice-cold Jägermeister, 25ml Lemon juice, 12.5ml Gomme, One egg white, Orange zests, Ice cubes, Tumbler glasses
How to Make
Step 1: Throw a handful of ice cubes in each tumbler
Step 2: Fill your cocktail shaker with everything else – then shake it like you mean it
Step 3: Strain the liquid twice for good luck into the waiting tumblers
Step 4: Add with slices of oranges to taste. Now it's all ready for you to drink it! .
.
Jungle Hunt
What you'll need (per drink): 20ml Jägermeister, 20ml Taylor's Velvet Falernum, 20ml Plantation Pineapple, 20ml Lemon Juice, 40ml Pineapple Juice, 15ml Cinnamon Syrup (Giffard), 2 Dashes Angostura Bitters, 1 Pineapple Leaf, de-hydrated lemon wheel, Burnt cinnamon stick
How to Make
Step 1: Pour Jägermeister, Taylor's Velvet Falernum, Plantation Pineapple, the lemon juice and cinnamon syrup together into a shaker – aaaand mix!
Step 2: Add two dashes of Angostura Bitters
Step 3: Decant into a glass of your choice and garnish with the pineapple leaf, the lemon wheel and cinnamon stick – now you're ready for a hunt in the jungle, with a drink in hand. .
#thisislondon #seemorelondon #londonisopen #visitlondon #londonliving #ilovelondon #lovelondon #londonist #london_only #londonforyou #londoncity #londoncitylife #lovelondon #london❤️ #london🇬🇧 #londonfoodie #cocktailporn #cocktails🍹 #cocktails🍸 #cocktailstyle #cocktailsanddreams #jagermeister #jagermeisterparty #jagermeistercocktail #jagerbombs #jagerparty #popupbar #lcw #londoncocktails #londoncocktailweek https://ift.tt/2PgC365




Tasting coffee at the @nespresso.uk Boutique on Regent St and learning about the Master Origin range of pods made from single origin coffee (plus delicious desserts). I chose Nicaragua and Ethiopia and both were amazing - though the Nicaragua was a step above. Of all the @nespresso pods I've tried, the Nicaragua stands out in my mind as the most delightfully distinct, with a complex palate and little bitterness making it a sublime espresso shot. I don't do plain espresso shots but I will with the Nicaragua pods.
.
.
.
#coffeebar #espressolab #espressoshot #coffeeshots #nespresso #nespressomoments #nespressoclub #nespressocapsules #nespressocoffee #nespressoboutique #coffee_inst #coffeelover #coffeehouse #coffee_time #coffeeholic #coffee☕ #espressobar #espresso☕️ #espressohouse #espressolove #espressocoffee https://ift.tt/2DIofzT
badges
Grammar Warning: I am clearly aware that my grammar is sub par. Please excuse any typos or miss-spelling of words you may come across when reading this blog. There is no need to write or notify me. Thank You Kindly.