August 28, 2019
Askinosie Chocolate Bars Review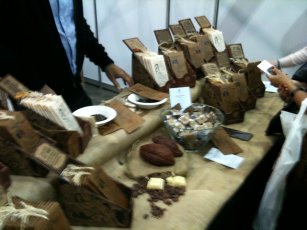 The Askinosie chocolate box arrived with the promise of a great deal of joy inside. I'm always keen to learn about new chocolate suppliers and the blog post at Napaman "The Chocolate World Just Got a Whole Lot Chocolate-ier!" about Askinosie was full of the promise of delightful chocolate. My uncle had hooked me up with what I never thought possible – excellent, high-quality from bean to bar chocolate.
The beautiful box of chocolate bars, nibs, cocoa powder and hot chocolate buttons was a delight of unique packaging, exciting printing and wondrous chocolate. Each bar seems to be bagged in brown generic paper which is the stamped up to reflect the Askinosie chocolate content. The name of the bean, area it was grown in, an image of the lead farmer and other details are printed on each bar. It is a beautiful packaging style – rustic and yet very chic. The bars would be at home in the Ritz as well as Harrods and are currently at home in Selfridges in London where I recommend visiting and picking up some.
The box included white chocolate which I must reluctantly admit to leaving not only for last, but for a different day. The joy of the chocolate was too great to risk having it ruined by an oversweet, waxy, un-chocolaty chocolate bar. I lined up the bars from lightest to darkest and set about trying them.
I have often commented that I worry that I am too harsh on chocolate makers. When trying chocolates such as may be found in the finest chocolate halls and finding them wanting, I am concerned mayhap my standards are too high. This chocolate reminds me that my standards are not too high, everyone elses are too low 😉
The first bar is Dark Milk & Fleur de Sel made from Trinitario beans grown in Davao in the Philippines. It is a 62% dark milk chocolate. The fruity favour of the chocolate is slightly hidden here but it is a rich, creamy chocolate with a gentle scent and not overpowering chocolate flavour. It melts slowly in the mouth and is not too sweet but still satisfies those less inclined to dark chocolate with the goats milk offering a creamy finish. The flavour does not linger as long as a dark chocolate would but this is an extremely pleasant chocolate bar. There is no salty flavour and after one particular experience of salt in chocolate went wrong, I was pleasantly surprised that the salt was used to perfectly enhance the chocolate flavour. If you've never had a dark chocolate before, or never experienced high quality chocolate, this is an excellent introductory bar. I'm likely to buy lots of these for the holiday season to introduce my team and all my friends to it.
The 70% dark chocolate bar from Arriba Nacional beans grown in San Jose Del Tambo, Equador is a joy. The sharp snap sings the praise of the chocolate tempering and the scent you get as you smell the chocolate before tasting it fills your nose with the smell of ripening beans, fruit and sun. The flavours are intensely chocolaty with a slightly floral fruity flavour wrapping itself around the mouth like a lover. The chocolate scent tickles its way into the nose, infusing every area with this intensely fruity floral sweet chocolate. The chocolate is not sweet from sugar, the chocolate itself is a beautiful gentle chocolate. Of all the bars, this one ended up with most missing from it by the end of the tasting.
Next up is the San Jose Del Tambo Nibble bar with the 70% dark chocolate and crunchy cocoa nibs using the Arriba Nacional bean. That same fruity bean scent is there with this bar but the crunchy sweet nibs (because the bean itself is sweet, not from excess sugar) are liberally sprinkled on the back of the bar. They explode that fruity bean flavour in to your mouth with each bite so instead of letting it melt, I chewed away on it (sorry Paul – don't be too cross). This has to be the most exciting of all the flavours I have tried recently and I cannot rave enough about it. From the first fruity scent through to the explosion of fruity bean flavour with each bite, this chocolate is as exciting in favour as experience. If you know a chocolate lover and want to get them something different, focus on this bean and if possible, this bar.
Soconusco, Mexico is the origin of the Trinitario beans used in the 75% dark chocolate bar and the origins of this bar show. The earthier flavour of the bean grown in this region give an even darker flavour to this bar, making it a dark chocolate lovers delight. You can taste the dark soil of Mexico in this bar with tobacco, earth and if you can detect it a light fruity finish. You can feel the depths of the surrounding forests in the rich earth as the chocolate melts in your mouth and it leaves you with a hint of mystery – as if there is something more on your palette just out of reach that is pleasant but hard to grasp.
Davao, Philippines Trinitario brans bring us to the 77% dark chocolate bar. Tasting this bar you can feel the difference between the growing regions. From the first tendril of scent that curls up into your nose as you place the chocolate in your mouth, you know this dark chocolate is different. Lacking that dry-mouthed, burnt and slightly sour flavour other dark chocolate bars assault our mouths with, this dark chocolate bar brings the sun, soil and seasons of the Philippines to our mouths. This chocolate dances across the tongue as it melts in your mouth and wakes all your senses up with only hints of the tobacco so prominent in the Mexican origin Trinitario bean and more of the earth itself shining through with a fatty chocolate rich in complex flavours. This chocolate fills your mouth with a complex chocolaty joy while transporting you to the Philippines and the chocolate beans drying in the sun.
Finally the White chocolate nibble bar. This bar and I had been in a standoff for days. I stared at it, it stared unapologetically back. Refusing to apologise for being white chocolate, it remained unashamed of its nature and dared me to try it.
The white chocolate remains a sweet alternative to milk chocolate but Askinosie has added a rich cocoa content which renders not only a beautiful golden hue to the chocolate but a flavourful experience to the sampler. The white chocolate has that deep, rich chocolate flavour which sparkles through in each Askinosie bar. The added cocoa nibs create a depth of chocolate flavour you are highly unlikely to experience elsewhere. The white chocolate from Askinosie finally converted me from a white chocolate hater to a white chocolate fan. I'd never eat anyone else's white chocolate though – only Askinosie. You always remember your first love.
All in all my favourite is the 70% dark chocolate bar from Arriba Nacional beans grown in San Jose Del Tambo, Equador with the nibble bar a close second. In a strong third place is the milk chocolate with fleur de sel. I think I'll be popping over to Selfridges and stocking up on even more as I've heard rumours of a cookie and mint bark for the holiday season!