May 1, 2011
Weight Watchers Chocolate Biscuits, Caramel Wafers & Double Choc Chip Cookies
Why is a chocolate blog reviewing Weight Watchers? Because I believe in chocolate 🙂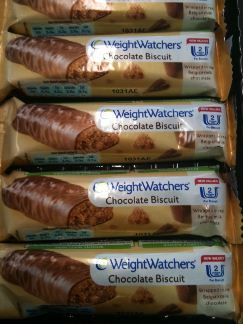 The Weight Watchers Chocolate Biscuits were the first of the chocolate things I found. They had an inauspicious start as the chocolate had bloomed and so the whole pack seemed to have a whitish film over the chocolate. Well, it wasn't that bad after all as I tried them and they were fine. You really need to judge these against the same level thing and I think that compared to other chocolate diet cookies these were nice. The others tend to include soya and awful sweeteners and I don't like them. This *does* need a cup of tea though as the biscuit was dry and difficult to eat on its own.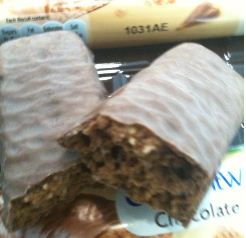 A bit of tea is perfect with these and needed. These chocolate covered biscuit fingers are 89 calories each which is close to that of a pair of Kit Kat fingers (99 calories) but this is more biscuit than chocolate.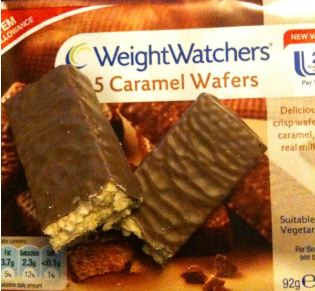 Weight Watchers Caramel Wafers were the next thing I tried. These were OK if a little chewy. The wafer is light and crisp and the caramel is thick and yet each biscuit is only 78 calories despite the thick and chewy nature of the chocolate coated biscuit. These aren't bad and with so few calories for a sweet, chewy treat I have to say that they seem brilliant! That said, they aren't great chocolate but they are nice.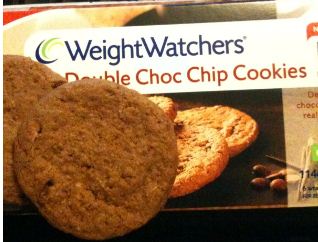 Weight Watchers Double Choc Chip Cookies – now, I swear these are meant to be "healthy" as they taste like they use added bran and considering it makes you feel fuller I'd not be surprised but at 87 calories for 2 I'm not entirely convinced they beat traditional cookies. Now, don't get me wrong as these are nice and the fact they have added oats means you'll feel fuller, sooner and thus eat fewer treats. They are 87 calories for TWO cookies and this is brilliant since after one I was getting full. That means you can take a packer to work, have 2 cookies, eat one and save one for later. These are also dry and also need a cup of tea but husband and I both liked them and would eat more.
My overall verdict? These are OK but I think they have been created more for the dieter who requires someone else to make the choices for them and since Weight Watchers takes the confusion our of dieting I guess that makes these perfect but not my personal perfect choice 😉 Now, pass me that Soma Porcelana bar…