September 1, 2017
Velvet Edition from Green & Blacks – The Collection Reviewed
Green & Black's has created an whole new line of chocolate bars in dark chocolate. Their Velvet edition uses ethically sourced chocolate from Ghana. These bars have been created with no artificial colours, flavours and preservatives which means things like the Orange & Almond includes genuine blood orange oil and not an artificial flavour, resulting in a better, truer flavour. The Ghanaian cocoa beans that Green & Blacks gently roast, resulting in a less bitter, more pleasant chocolate flavour, carefully balanced with Madagascan vanilla which at the moment is very expensive due to various environmental reasons. The result of this expert blending is a dark 70% chocolate that is sweet and smooth, but still has a good depth of cocoa, along with subtle notes of roasted hazelnut, coconut and raisins (according to G&B and I have to agree).
I was sent the whole set of these bars and so I thought I would taste and review them all. I was not asked to review them and I'm being totally honest. I'm dieting right now so my taste buds are a bit… off right now but hopefully not too bad. Mainly I've cut sugar out so everything tastes sweeter so I've tried to account for that. I'm sorely includes to eat the whole of that Salted Caramel bar though… 😀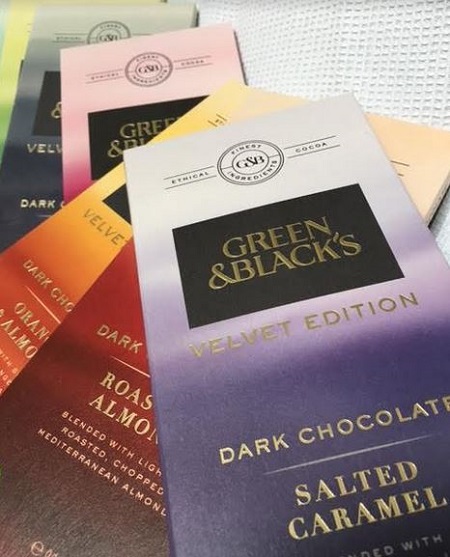 Salted Caramel – There is an immediate flavour sensation of M&M's with that sugar nose hit then as the dark chocolate melts it combines with the crunchy caramel and little bit of salt to create a delicious mouth feel. It's sweet so don't be put off by the dark chocolate and the salted caramel sweetens things up.
70% Cocoa – so this was interesting. A rather flat but slightly nutty flavour, it isn't bitter. Here is a creaminess to it and a slight powdery finish but overall not bad. Acidity is pretty much non-existent and with the nut overtones within the chocolate flavour it makes for a smooth, if not too complex chocolate. Not too sweet, not bitter, this is a crowd-pleaser.
Sea Salt – This was not what I was expecting. There was a significant amount of sea salt in the piece I had so as it melted I got bursts of salt. I don't think it necessarily enhanced the flavours in the expected way but it was an interesting flavour experience.
Mint – I love mint and this doesn't disappoint. A deeply minty favour but without the crunch you sometimes get in a mint chocolate get, this dark chocolate is a lot like eating an After Eight only with better chocolate and without the fondant. For mint lovers, it is delicious and I think this is complimented by the dark chocolate being a decent quality.
Roasted Almond – pieces rather than whole almonds, my favourite remains the milk chocolate and whole almonds. This isn't bad but it just isn't quite as good as the original. I do appreciate for those looking to reduce their sugar intake this is perfect. I'll stick with the original version though 😉
Orange & Almond – so this was not what I expected and yet was exactly as it should be. Heavily orange with what seemed to be very small bits of almond, this was not too bad. As someone who dislikes chocolate orange, I appreciated the lighter touch with the orange where it is still prominent but not too overwhelming. I think the use of the blood orange oil is actually brilliant and delicious. Good bar.
Raspberry & Hazelnut – this was surprisingly good. I think I have a little bit of a crush on for freeze-dried raspberry flavour. It's small pieces of nut again and so it's easy to chomp and chew. Not really outstanding and if I may be so bold I would say the weakest of the series to my taste.
So that's my version of what I think of these bars. I don't love them all but they are all likable. It will be interesting to see how this progresses and whether the more expensive ingredients are maintained. I am heartened to see the effort Green & Blacks went through to ensure ethically sourced cocoa but I feel like it is a short-cut to cheap cocoa. The assertion is to be less fruity and acidic which comes through in the Dominican Republic cacao (which I love) and so I get it. We'll have to see if the ethical programs continue.