January 20, 2011
Thorntons Haiti Milk Chocolate with Mango Save The Children Bar
There has been a movement of late in the chocolate industry to use chocolate as a way to give back to various communities.  Divine, Demarquette and Thorntons are all chocolate producers who are committed to helping give back to communities.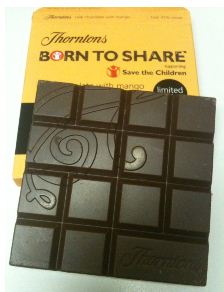 This delicious milk chocolate bar from Thorntons gives pretty much everything to "Save The Children".  That is, £0.91 of every £1.79 bar is donated to the charity.  That seems to me to be an excellent way to give to charity.  In fact, I hope you'll all join me in giving a tenner to charity because it helps in another way – the beans are from Haiti providing valuable trade to help Haiti continue to rebuild its infrastructure.
Why buy it?  The hint of vanilla in the chocolate is the first note to hit your palette.  Then you get a slightly darker but sweet milk chocolate flavour before the mango becomes dominant in your mouth as you chew the lovely pieces.  There is a slight almost molasses flavour coming through as though the sugar was slightly less refined but I'm all for less refined sugar 🙂
There is a slightly tart edge to the mango which is lovely in the milk chocolate.  It balances everything out making this a really nice, not at all challenging bar anyone would enjoy.  From granny through to the wee ones, this chocolate bar will be a firm favourite and will please everyone and I hope that means more sales since just one of these bars could buy seven notebooks or 10 pens for a classroom in Haiti.
This is a really great all-rounder and at my next conference, provided you've let any for me in the shops, this will be my chocolate giveaway so I can both donate and share the joy.