February 24, 2011
Michael Mischer Dragon Fruit & Blueberries Dark Chocolate Bar Review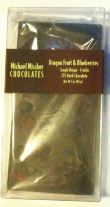 It might not have been the best idea to try dragon fruit for the first time dried in a chocolate bar from the US but I did.  I had gained some confidence by trying the toffee & sea salt version first and thought this would be as wonderful.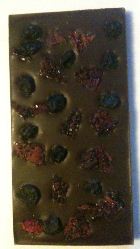 Not quite.  Where the toffee & sea salt bar is well balanced and the lack of complexity in the chocolate is not obvious, this bar falters because of that lack.  The chocolate is not well supported by the fruit and as such you are confronted with a lacklustre chocolate which is flat and dark and bland with some chewy dried fruit.
The fruit does not compliment the chocolate and as such it does not round out the taste of the chocolate in the mouth.  I did chew this to ensure I got the combination of flavours and they just left me flat.  I just had no desire to go back for more here.
I think that this chocolate bar could benefit from fruit that might support or enhance the chocolate and lend it some body. The deliberately set blueberries and dragon fruit means you get a bit of fruit in each chunk but I think perhaps additional supporting flavours might have helped.