August 14, 2012
Melt Chocolate-Coated Popcorn Review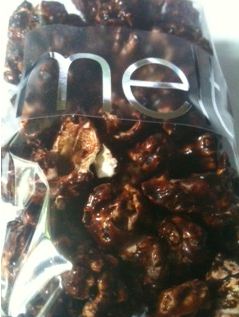 I am rather skeptical about chocolate covered popcorn. I just think of a Cadbury bar and popcorn coming together and I have to admit I'm not keen so when I saw the Melt chocolate covered popcorn which was all shiny and thinly coated and gorgeous looking, I thought I would give it a shot.
Now, I'm sceptical about things like this and yet the lovely folk at Joe & Seph's popcorn have converted me into trying new flavours (still surprised at how real the mince pie flavour was!) so I accepted the free bag I was offered and took it home. I also bought some chocolates while I was there and watched the new mud pie being made as well as some hazelnut praline cups being filled – YUMMY! They have the most brilliant ice creams as well – the passion fruit and blood orange is a triumph.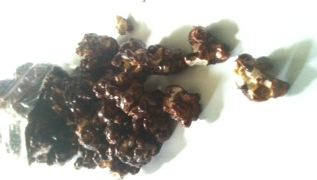 So the popcorn – what is it like? Well, it has that amazing sensation of sweet and salty in the crunchiness. The chocolate is slightly different from what you might expect since it is more dark than sweet so it isn't like a caramel alone. The flavour is of caramelised dark chocolate with slight saltiness that occasionally pokes through.
This is very moreish and I am unsurprised that they keep selling out. I have a feeling they will have to start selling this in larger bags as well as it is just so delicious. It's not too sweet, not too salty and just brilliant!