August 29, 2010
Hotel Chocolat Purist 90% Dark Extreme Caramels

I first tried these caramels at the Hotel Chocolat event I attended and boy were they different. The 90% seemed an unlikely candidate for a sweet caramel filling although the Ecuadorian chocolate should have been a fruity counterpoint I was dubious about how it would work.
Mostly I like Artisan du Chocolat sea salted caramels. I like getting them in the little plastic container like a cosmetics jar and indulging in a few every so often. So I was wondering if these could possibly be as good as those. The long plastic box houses 5 squares marked on the corner by a yellow dot reminiscent of the other caramel square they do.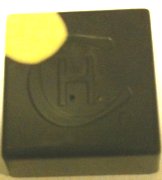 The whole thing really needs to be eaten all at once as the caramel inside is quite runny and a little strong, coming through as a distinctive taste on the palette over the chocolate. As the chocolate melts it then floods the mouth with a strong but distinctively fruity flavour before combining with the sweet of the caramel and then leaving the flavour of the dark chocolate behind.
I'm not sure about these. I've eaten all of them and I'm still not sure if I like them. I think I'll need to go buy some more and see if I like them. It might take 2 or 3 boxes to figure it out. Best head off to the shop in Oxford or the one near my office in London and grab some sharpish!