March 29, 2013
Hotel Chocolat Beau Bunny Chocolate Egg Reviewed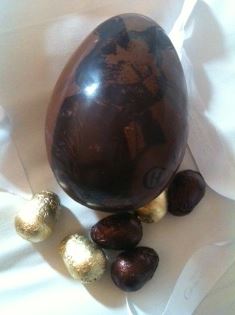 There's something about Hotel Chocolat that is just absolutely special and distinct. Whether it is the stylish shops or the delicious chocolate, every element of the company is geared towards indulgent luxury.
This year, Hotel Chocolat has adopted the rather Donny Darko-esque "Beau Bunny" for this year. The large-headed, sharp-suited bunny has been making his way around the various Hotel Chocolat stores on his mission to hand out 60,000 eggs this year to well-deserving people. For those who want to take a bit of Beau Bunny home with them, this is one of the most branded eggs I have seen.
This package has six eggs, three praline and three salted caramel, and a large milk chocolate egg. They are packaged within a clear plastic wrapper with the milk chocolate egg in the center and the six eggs around it. The nice cardboard base keeps everything secure and safe and nicely displayed.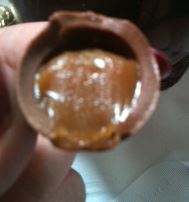 The praline eggs in the brown foil are standard praline. They are smooth, delicious, not too sweet and not at all bitter. The salted caramel are ABSOLUTELY LUSH and I loves every second of eating them! Delicious, salted caramel goodness with just amazing milk chocolate all in a little egglet.
The milk chocolate egg has, on each side, an image of the Beau Bunny head and shoulders. The egg is milk chocolate and the image is also chocolate so the image is absolutely natural, meaning no added E numbers or anything nasty. The egg itself is quite weighty and made of the kind of quality milk chocolate you expect from Hotel Chocolat.
At £15 this is a slightly pricy treat for Easter – but it is Easter and it is a thick egg and it is delicious milk chocolate from Hotel Chocolat. Go on – treat yourself and pop in to the store this Easter and buy yourself or something you love a delicious Beau Bunny egg!