October 1, 2012
Hot Chocolate Cocktails at The Botanist with Hotel Chocolat Chocolate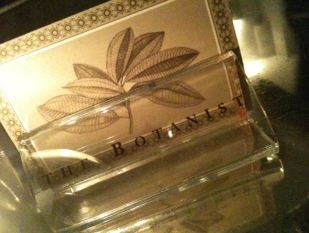 I could preface this blog post with "it was a dark and stormy night" in homage to a blog I was reading while awaiting my companion at The Botanist which highlights the inaccuracies in various foodie blog posts, but I shall refrain. Oh damn, I didn't. Ah well, from one personal failure to the next – sticking to my diet. I certainly didn't stick to the diet but how could I resist these gorgeous hot chocolate cocktails. Besides, they are only available during Chocolate Week October 8 – 14 and given my schedule that week I'll be lucky to get a decent night's sleep!
Given a cocktail is formally defined as an alcoholic drink consisting of a spirit or several spirits mixed with other ingredients, such as fruit juice, lemonade, or cream. I suppose I should say that this stretches that definition only slightly.  However you choose to define these chocolaty drinks, the important fact are that they are all made with Hotel Chocolat chocolate, they are all *hot* and three out of four are alcoholic. That, of course, means that you can all enjoy a chocolaty creation any hour of the day or night.
I have to admit, it is nice to see Chocolate Week inspiring many venues to embrace their dark chocolaty side and create something different and a bit out of the ordinary. So it is with these chocotails. Two are served in a rather more expected glass mug but two are served in brandy snifters! In fact, those two turned out to be my favourites however as with any good story, were should begin at the beginning.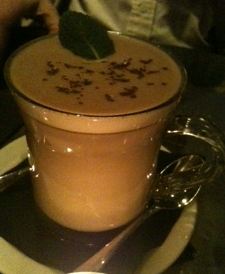 Ultimate Hot Chocolate – the non-alcoholic drink of the group, we were told that this contains a reduction of mint tea (fresh mint by the strong chlorophyll taste) and the Hotel Chocolat liquid caramel hot chocolate. This sweet and minty hot chocolate was slightly not to my palate but I know a number of readers here prefer something a bit sweeter and that fresh, green mint flavour changes this hot chocolate from something rather ordinary to something quite different.  Taste is quite individual and while it may not have been to mine, it might be to yours so do try it out if you are a fan of fresh mint. This mug of non-alcoholic hot chocolate while seated in the rather swish but relaxed environment of The Botanist costs £4
Naughty but Spicy – a darker shade of hot chocolate, this one. It was my favourite though when I first heard about it I was ready to politely dislike it. This uses the Aztec chilli liquid chocolate from Hotel Chocolat and combines it with a German spiced rum which apparently is the only rum spiced with cinnamon. These two flavours are combines in a brandy snifter and a flash of rosemary is added before a sprig of rosemary itself is placed on as a garnish. Ya, I know, I was weirded out too but my goodness I'd return for this one alone. The combination of a very mild warming sensation from the chilli with the German rum which was not too intense and the hint of rosemary combined together to create the ultimate in autumn and winter warmers. This is the ultimate alcoholic hot chocolate and I hope it'll be sticking around after Chocolate Week. This was a top pick for the combination of moderate flavours which did not overwhelm the palate and warming without being overpowering. Perfection in an alcoholic hot chocolate cocktail for only £8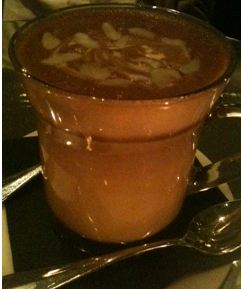 Nutty Divine – Dark Classic Liquid Chocolat from Hotel Chocolat is combined with hazelnut syrup, crème de cacao and Jamaican rum. I must admit, I didn't get the hazelnut in this but boy did I get the alcohol. If you're more in the mood for a boozy hot chocolate, this should be your top choice (whereas the Naughty but Spicy is something more complex, sophisticated and enchanting). The flavour of the hot chocolate is the delivery vehicle for a large dose of something to get your evening off to an interesting start. You can get this boozy choctail for just £8
Chocolate Orange Melt – this was interesting – the orange zest on top gave this drink a zingy fresh citrus initial impression and then you get to the Hotel Chocolat Dark Liquid Hot Chocolate together with Cointreau and white crème de cacao. I don't like chocolate and orange but I liked this one. In fact, it was my second favourite of the evening (if I hadn't been drinking earlier in the evening the Nutty Divine might have taken top ranking 😉 ) which for someone who doesn't like orange and chocolate is saying something! For £8 it's a good change to try it and see if you like it!
These cocktails are, sadly, only available during Chocolate Week but maybe if chocolate lovers in the Sloane Square area or up in the Faringdon area visit wither The Botanist or the Chiswell street Dining Rooms they will keep them on for longer 🙂