December 23, 2016
Golden Cenarth with Gewurztraminer Raisins and Caraway Seeds Recipe from @PaxtonsCheese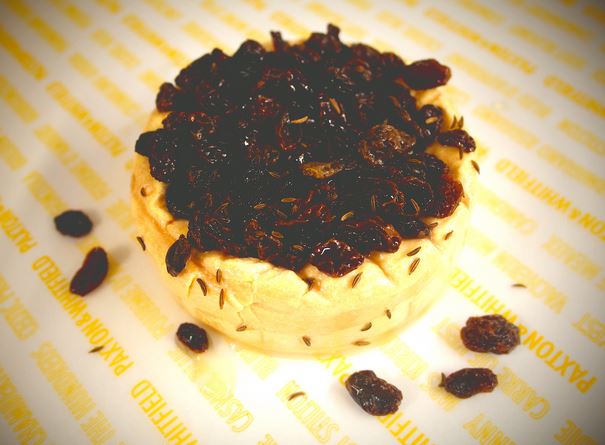 Golden Cenarth (£8.25/250g) – (Pasteurised, vegetarian rennet, cows' milk)
This round, soft, rind washed cheese has a tasty buttery flavour with a supple texture. Made by Carwyn Adams of Caws Cenarth Cheese, a small artisan family cheesemaking business based in West Wales, the cheese came about from his experiments in cheesemaking. The business itself was started by Carwyn's parents, Thelma and Gwynfor in 1987, and now makes five cheeses, including Caerffilli. All the milk used in Golden Cenarth is GM-free cow's milk sourced from local farms. The skin of the cheese has a light orange colour that comes from the brine wash that it's given early in its maturing process.
It recently won Best Welsh Cheese and Best Semi-Soft Cheese at the British Cheese Awards 2016.
I've tried this and I can attest to the fact that this method of treating the cheese absolutely lifts it and makes it something very special.
Ingredients:
35g raisins
150ml Gewurztraminer
½ teaspoon caraway seeds
1 x Golden Cenarth
Method:
Gently heat 100ml of Gewurztraminer in a pan and then pour over the raisins in a bowl. Leave to soak overnight with the bowl covered by a plate or cling film.
Put the remaining wine in a flat bowl and dip the cheese in it, ensuring that the rind gets an even soaking.
Then place the cheese on a plate and sprinkle with the caraway seeds. Refrigerate the cheese overnight.
When ready to serve, dress the top of the cheese with the soaked raisins.
This is the perfect place to get your cheese for Christmas or really any time of the year.
© Paxton & Whitfield