June 5, 2013
Danucci Ferdia Sea Salted Caramels with 70% Coverture Reviewed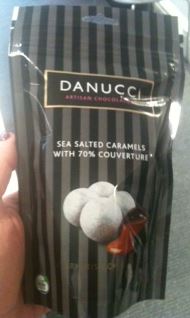 I've received a few things from Fredia Fine Foods but few made me as excited as these sea salt caramels. There's nothing like a delicious ball filled with sea salt caramel to just take the edge off a chocolate craving, get you through work or celebrate something significant.
These large silvered balls come in an unassuming bag ready for being hung from a hook for shoppers to peruse but I think the simplicity of the packaging belies the deliciousness inside. The bag is plain and there is little written about the sea salt caramel. I assume that is because most of the space is taken up with the usual ingredients and generic description in 5 or so languages so I will do my best to describe them.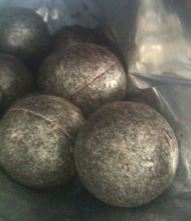 These balls of salted caramel are incredibly easy to eat – far too easy. The dark chocolate has a mild, if slightly nutty flavour and I get a hint of acidity in my cheeks, making my mouth almost water. The caramel, to me, is perhaps slightly past my peak ideal. It is darker than most other caramels but still not too sweet with that lovely sea salt taking the edge off the sweetness.
The shell is, as you can see, not too think and so the balance between filling and shell is, for me, just right. The chocolate is not over roaster and on the bag, when you check the ingredients, sugar is *NOT* the first ingredient. In fact, "cocoa beans" is the first ingredient. You can't ask for much more form a chocolate except to be free from palm out and it is. It has a bit of added cocoa butter as the beans are likely too dry without it but no added oil and importantly – no palm oil. On top of this the caramel has no palm oil – just a smidge of rapeseed oil and some flavour enhancers.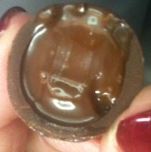 So while this might not be Paul A Young with a 2 week shelf life, with its long shelf life, nice size and oozingly delicious caramel, I absolutely recommend these sea salt caramels. I was shocked. I would have sworn by the packaging that they wouldn't be great and they absolutely blew me away. I'd buy more and in fact I likely will! You want some? BUY THEM ONLINE