May 26, 2017
Danish Foodie Destination Aarhus Raises the Gastronomic Bar With New Restaurants, Markets and Bars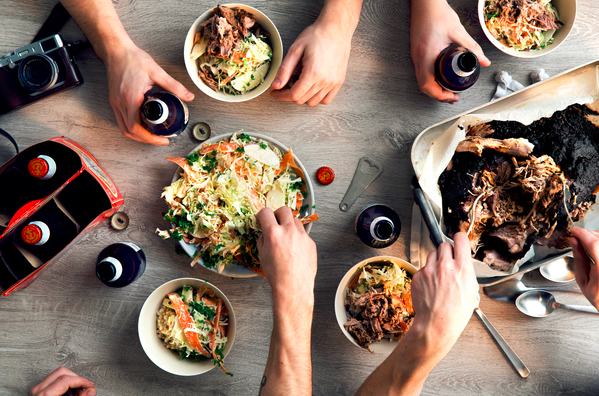 Forget the diet on a gourmet break to Aarhus, and indulge in a veritable feast of culinary delights as Denmark's second city serves up a plethora of innovative world class cuisine. As Aarhus is celebrating the title of European Region of Gastronomy this year chefs are raising the gastronomic bar and pushing epicurean boundaries to put Aarhus firmly on the culinary map with a number of progressive new restaurants, bars and cafes aimed to suit all budgets.
New restaurants
The restaurant food scene in Aarhus continues to thrive and inspired by the European Region of Gastronomy events the new gastro wine bar and restaurant Aaby&Udengaard has a special RETHINK menu. With individual dishes having unusual names like 'Dansk hygge', 'Sol over Bornholm' and 'The Wadden Sea beaches' diners will be able to choose tasting menus of five, eight or even 15 courses including locally caught seafood and the finest rhubarb.
In the redeveloped old harbour areas Hantwerk combines a brewery, wine bar and restaurant, offering the chance to enjoy great food either in an informal dining area, with traditional Danish long tables, or out on the harbourside.
Meanwhile Sif Orellana, Jonas Langhoff and Steffen Juhl (the team behind Langhoff & Juhl) have taped in to the trend for all things healthy and organic with the opening of Greenilicious, in the Magasin department store.
In the 2017 Nordic Michelin Guide Aarhus gathered another star for Restaurant Domestic where diners will find 4- and 8-course set menus showcasing locally grown ingredients of the very best quality delivered in a cosy atmosphere where everyone can feel at home.
Great food and good prices are behind Michelin starred Frederikshøj's head chef Wassim Hallal's new pizza restaurant in Tivoli Friheden. As the Ambassador for European Region of Gastronomy 2017 Hallal wants to prove that quick food can be delivered in high quality and at an affordable price and his new gourmet pizza bar will be open to guests attending this years Fed Friday concert at Tivoli Friheden in Aarhus.
Value for money dining
Rubbing shoulders with the Michelin-starred establishments, Aarhus offers a wealth of great value for money dining options such as Mexican inspired Vaca and deli style Olinico. One of the hottest trends is for a group of diners arriving at the same time to pay a set price to enjoy a four- or five-course menu with unlimited wine followed by tea, coffee and sweets. Kähler Villa Dining, Det Glade Vanvid and Früd no 16 are some of the best examples. 'Bring-your-own' restaurants are also a  growing trend with Restaurant Olive and Le Basilic providing budget conscious diners with the chance to enjoy modern Danish food with Mediterranean and French influences, while keeping costs down by bringing their own wine.
New food markets
Dining in food markets is growing in popularity with people flocking to a wide variety of markets to enjoy fantastic food stalls with Nordic produce to eat there or take home. Aarhus boasts two brand new food markets. Aarhus Street Food, which was inspired by London's Borough Market, is set in a former bus garage. Offering an international menu from Thai treats to crispy pizzas, and fish & chips to Scandinavian meatballs, all can be enjoyed at traditional Danish long tables. Meanwhile, Aarhus Central Market, offers the chance to shop for Danish delicacies as well as freshly prepared dishes to take away and includes a show kitchen, where chefs and foodies regularly take to the stage to present culinary demonstrations.
A mecca for wine lovers
Despite the Danish tradition as a beer loving nation wine bars are popping up across the city from venue's such as S'vinbar which attracts students, business people and tourists alike to sample the wines from smaller producers in countries like Georgia and Austria. To more Spanish style  'vinbodega', such as the recently opened MasVino and by the same owners, Pica Pica where homemade bread, cheese, sausages, tapenades and olives  combines with a great selection of mainly Spanish wines to a background of live jazz. Another Spanish style newcomer is D'vinos, right on the sunny Klostertorvet. Offering mainly Spain wines by the glass; a gourmet dining menu is available for around £45 per head. Alternatively, at Plan B on Peace Square, the old Apple store has become a cosy wine bar run by five wine enthusiasts and the Vindanmark wine shop on the water at the Port of Aarhus, makes a great location to enjoy a glass of wine. In the summer months' visitors, can even dip their toes in the water with a cool glass of Chardonnay in hand whilst feasting on a self-serve selection of tapas dishes. Or head to new cocktail bar Gedulgt on Fredengade.
For further information see www.visitdenmark.co.uk